First off here are those layouts I was working on that I said I would post two days ago...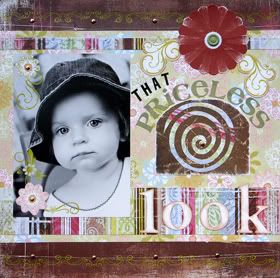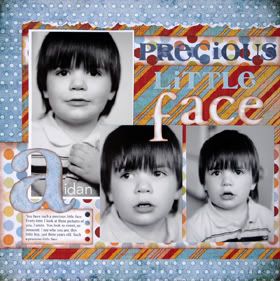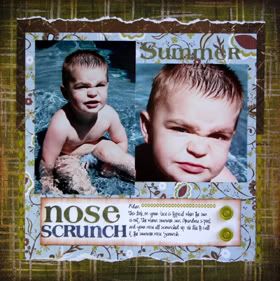 Thanks to Amy Howe and a challenge she had on her blog I got these layouts done. The challenge was to use Chatterbox and basic grey together on a layout.
Okay now randomness-
I got my new cell phone last week for work(it has a camera on it lol BONUS) It was awesome, Dustin's aunt (who I work for) calls into her cell phone company and tells them they need to add me to the service, I had to go down there thinking I have to sit and wait then fill out papers, nope not how it went down, I pull up to the place, walk in and I'am asked if I am Nikki, I say yes and then I am handed a bag which holds my new phone and told everything is working and ready, have a nice day, Dustin was surprised to see me back in the car in less then two minutes LOL, he had already taken the boys out of their car seats. Anyways, I called my best friend to give her the new number, guess what she was doing? She was at her moms house (who lives about two hours from where we all live) dropping her off for the week because her, her sister and her cousin (all of who I grew up with, I have known my BF for about 19 years now) are all heading out to Hawaii for the week, WHAT A lucky girl, I am so jealous LOL. I told her to make sure she takes pictures and has a glass of "something" for me lol. I told her to call me when she gets home this week so I can go over to her apartment and hear all about this "girls week" trip lol. I hope she had an awesome time and I want the dirt LOL.
I have so many things to do today, I have to go to the PO and mail off a package, I relisted the stuff I had up on ebay of course for way less then what I had them priced for, but what can I do, I need to make some kinda money, it's almost time to pay fees again grrrr, eBay sucks right now. We are heading over to the new house today, it is almost done YAY, I can not wait I am so ready, I am at the point now where It has been LONG enough here and everything is starting to piss me off and you can tell almost everyone else feels the same (I can tell by the comments I here). Before if someone had a tude in the house I would ignore it, now every little comment, look, etc pisses me off. Deep breath lol. Okay well I need to get off the computer and get going on my busy day. TTYS
Nikki