Sorry I did not post sooner but what with having a new baby and the boys home for summer (no school) it gets a bit tough to post, I have a little more time now that things are starting to feel normal again. I did post this on a couple message boards after having Adriana so I thought I would post it here to as an update for family and friends. We are all doing good, she is just the best baby ever! We all love her so much :) I took her one week pictures last Friday which I will either upload tonight or tomorrow (if it is tomorrow then I will upload her two week old pictures I will be taking tomorrow. I can't believe she is already almost two weeks, we actually went to her two week check up a day early (today) and she is doing great, at her one week check up she weighed 5lbs 8-9 oz, and todays check up she weighed 6lbs 3 oz so she is now gaining :). She is doing so good with the breastfeeding to. Just a sweet little baby :) Okay here is the Birth post and birth pictures...
We went in on Friday (6-8-07) to have Adriana (the original due date lol), when I got there I was dilated 4 1/2 cm (I was in labor at home for HOURS!). they hooked me up to the IV right away to start me on the meds for the GBS. They said that they would not break my water until I had two rounds of the meds. we got there around 2:40pm and they said we probably would not start trying for baby until 7:30pm so it was a waiting game. The contractions were not to bad but I decided to get an epi anyways because I knew it would be a long wait and that I should try and rest a little. I got the epi around 4pm. They could not track the contractions well on the machine, I only felt them in my lower back and lower ab's. Around 6:50pm I started feeling a bit of pressure in my behind area LOL, and from my first two PG's I knew this to be a sign of me being 10 cm dilated. I sat there a while waiting for the nurse to return, around 7:20 I felt a trickle of water and called out to the nurse again (they were busy ) I told her either my water just broke (which I never had happen before on it's own, or the catheter came out. So she decided to check me and sure enough I was 10 cm. She called in my Dr (who was on the floor) to come in that it was time to have the baby. They set things up and at about 7:35-7:40pm I started to push. I did not push very long, Adriana was born at 7:50pm. I could not believe how fast it was! With my two other births I remember the "feeling" of the crowning, the pressure. With Adriana I could hardly feel a thing and the epi was pretty much worn off, I understood after I saw her why I hardly felt her lol, she is sooooooo TINY!
She weighed 5lbs 13oz (I am use to big babies lol Austin was 7.5 and Aidan was 8lbs). She was born purple because the UC was wrapped around her neck 4 times, but bounced back right away. Dustin said when her head was out all he saw was hair lol, she was turned around so her face was facing down. I can not tell you all how excited, happy and thrilled we all are over this little girl We had to stay at the hospital until late last night, Saturday night Adriana went in to the nursery for the regular newborn tests and they found that she was at a high risk jaundice level for newborns. So all day Sunday she spent most of the time under the bili rays and on top of a bili blanket. I was so sad because I did not get to see her very much, they would bring her into our room for 30 minute feedings every 3 hours. We were so happy to bring her home late last night. We took her in to her PED today for another blood test, we are waiting to hear the results
Here are the pictures...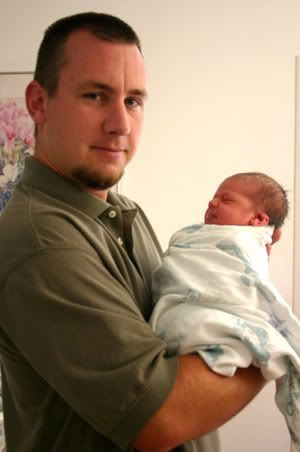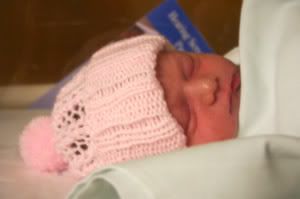 Her ear was bent in in this picture because of the way she was resting on them in my tummy, they are now bent right and normal looking lol...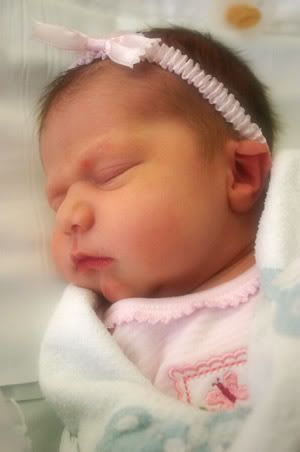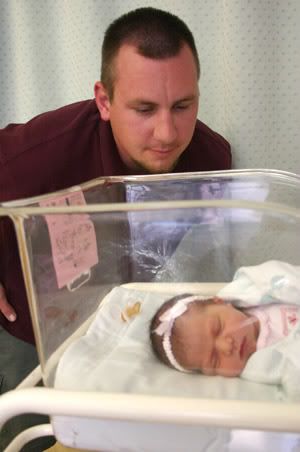 Her under the bilie rays treating the jaundice...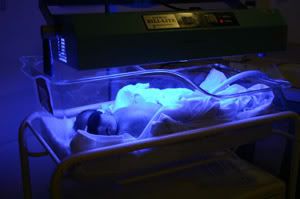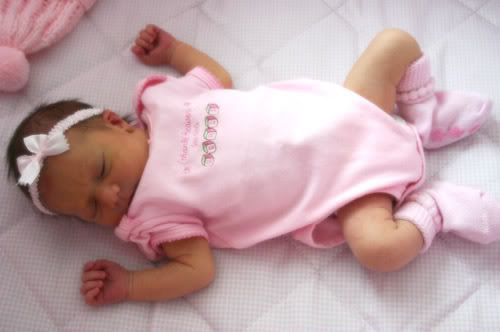 With her brothers...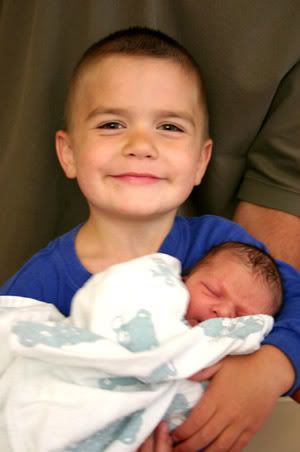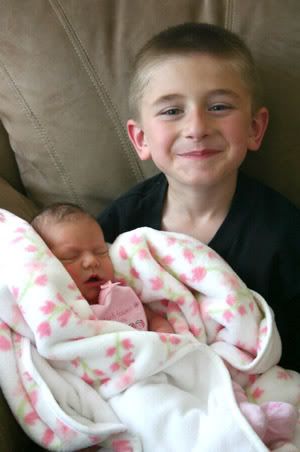 Here she is a couple days old...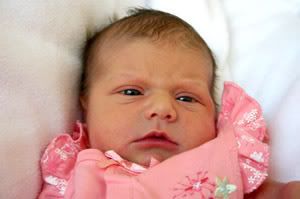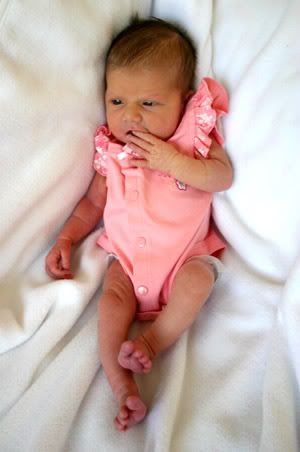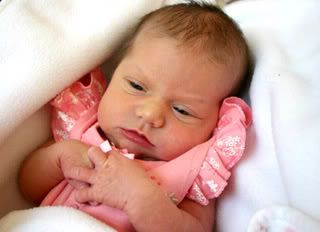 This is how she is most of the day LOL, such a good girl but she sleeps alot lol, I find myself missing her when she sleeps and the boys love it when she is awake, they are so helpful with her.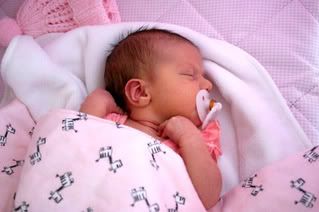 Okay I will try to upload and resize the one week old pictures tonight but if not i will upload them tomorrow with the two week old pictures I will be taking.
TTYS
Nikki