Hi everyone! I have something I would like to share with you. I got an email notification a few weeks ago and inside, there was a post about this beautiful Digital kit and what it was for. I am not a digital scrapper, in fact in the 10 years I have been paper/layout scrapbooking I have only made ONE (yes one lol) digital layout thanks to the step by step help from my friend Melissa in I think it was 2005? I am however a collector of digital "paper" kits. I LOVE alot of the digital paper kits out there and like to print them off and use them on my paper layouts lol. I also love digital elements (like journaling things and labels) you can print. Anyways, so this email had this gorgeous almost shabby but clean...well a little distressed (just the way I like it) kit inside when the most beautiful colors together. It said it was A kit for Kate. So I clicked on the link and it took me here...
Creativity By Crystal
. Holy Moly Crystal has talent! This girl makes Digital paper (and kits) like no other! I seriously drooled some and secretly wished Crystal would come out with her own 'paper' company LOL.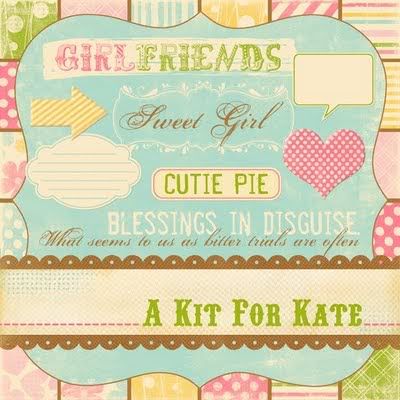 Back to the kit for Kate...This kit was made by Crystal in honor of a little girl named Kate who was recently diagnosed with brain cancer. You can read her story
HERE
.This kit is available to anyone who would like to donate to help the McRae family. All proceeds (minus PayPal expenses) will be donated to the McRae family. This is a HUGE kit with 22 papers & 25elements! You can also participate in
CARDS FOR KATE
if you'd like to send cards to Kate & her family. There is a $5 minimum on the kit, but you are welcome to donate more if you are able to, after all it is for Kate and her family. So if you go
HERE
you can purchase this kit.
If you are a digital scrapper and like kits, this would be a perfect kit for you, if you are not a digital scrapper (like me) then you can still get the kit and use it to print out the papers, labels, elements and use them on your paper layouts/cards etc.
Thank you so much for taking the time to read this post. I have to say after playing around in PS with this kit a bit (yep you read that right lol, I decided to try my hand at it in PS lol)
I may just try a digital layout (my second ever) with it, and when I do, I will share it here. I forgot how easy it is to actually do and I rather enjoyed it yesterday. I also printed a couple of the papers out and plan to use them on some cards, so stay tuned :)
Well I better get off the computer for a while, my mother is coming over this morning to take Bella and I out Halloween costume shopping...FUN! :) I love this time of year! I do have a TON of pictures I need to get up on here of our camping trips and the boys soccer games. I also have a bunch of new layouts I want to share, including the one I did for last months Basic Grey newsletter. I will work on those posts this week :)
Nikki