I am so tired lol. In one weeks time who ever would have thought someones life would change so much. Last Tuesday I went into my 8:40am DMV appointment and took my drivers test for the first time in my 27 years of life lol....and I PASSED. I am so excited, I know you all are thinking WHAT, Just now getting her license to drive, if you have been a loyal blog reader, friend or family you know why lol.
We also finally moved into our new home. We closed on the house on Friday (Sept 1st). It's been unpacking city here. Okay I moved around alot as a child (Mom always had us moving) and when I was a "fresh" new adult (on my own), I moved a bit also lol, once you have a family of your own moving is tough lol. So much to unpack, so much to go through, I am finally going through all the boys baby clothes and will be listing some on eBay. We are also going to have a Garage sale at MIL'S house soon.
So my life has really changed this month! I went from a SAHM for the pass 5 years, not really having a life of her own, not going out much (a big change from what my life was like before kids and being married) to a working mom, woman, feeling like I am getting "my life back. I get up at 4:00am to get Dustin up for work, head back to bed at 4:30am, get back up at 7:30 to get Austin ready for school (he just started Kinder last week, my first born is growing up sniff sniff) fed etc, getting Aidan up to go with us to drop Austin off , get back home to get ready for work and get the food cooked for work, leave for either work with Aidan or drop him off at Dustin's grandparents, get to work, if Aidan is with me then Dustin is there 10 minutes later to pick him up to head home well I work until 12:30pm, I don't get home until 1pm and I normally have to run a few errands once I am home. I like this new busy life, makes me feel a bit independent and like I have a purpose other then just staying home. I have to say, I do enjoy the alone time I do get driving home from work :) I get to play my music, sing at the top of my lungs if I want to (Like today, I had my PINK (I'm not dead) cd in and was jammin to "Who knew" lol and then I put in my John Mayer "Room for squares" CD and jammed to the first 5 songs, "City love" (my of my favorites) being the last one on when I pulled into our drive way lol, I had to sit there for a few second to finish it and Dustin came to greet me lol (he was probably wondering what I was doing LOL).
Anyways, see BUSY girl nowadays lol. I plan on joining Golds Gym next week and adding that in there everyday LOL, I will being going right after work. I have also started going to the salon with my mom every other weekend to, for my nails and toes ;) It's been nice being pampered like I use to before I became a SAHM.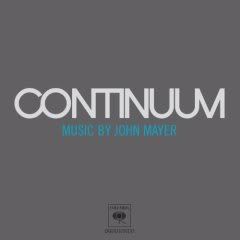 So I got home from work today and came into my office/scraproom to unpack a little more in here, I was searching for some things I need for some current DT stuff I am working on. Dustin was in here on the computer (thesamba.com), after he left I decided to get on a read some emails, I got one from John Mayer saying he would be on late night tonight and CBS tomorrow (the BB7 Peeps will be on tomorrow too) then it dawned on me that today is Sept 12, TUESDAY, DUH, John's new CD came out today, so I round up the gang and we headed out to Tower Records lol. I walk right in and there he is, well not John himself but a HUGE display full of the new "Continuum" CD's and all his others, it was awesome, kicking my self in the arse for not bringing my camera and having D take a picture of me next to it lol (you know you are a scrapbooker when you think like this "eyeroll") Anyways it had three different price tags on it, $18.99, sale price for $13.99 and then Special price for just today (it came out today) $11.99. So I picked it up and went straight to the counter, where I of course had to buy two packs of Skittles for the boys LOL (they take after their mother with them Skittles). Dustin puts it on when we get in the car, and after a few songs on the way home, he says, I know alot of these songs, and I say um yes lol, some are from the Try CD, and a couple ( I don't trust myself(with loving you) and Stop this train) I have had on my itunes for MONTHS now. I have a nice (Big) collection of John's covers, songs he sings in concerts and different versions of his songs he sings on my itunes. Sometimes while I work I will turn it on and sit here for hours listening to them. Anyways if you are a John Mayer fan or want to hear some amazing music and lyrics that have meaning go out and get this Album! You will be happy! And while you are at it pick up the Try (JM3) CD lol it's awesome to, heck all his cd's are LOL.
I am still trying to get those John Mayer tickets for his Oct 1st concert here at the shoreline, all that is left now is the lawn seats (waaaaa) which I would totally take, just to be there and see/hear John, but I want closer LOL, so I am going to look on eBay and see what they have, This will be my Bday gift to myself next month lol.
Okay I better get going, I have DT work to finish up and send in. Night
Nikki