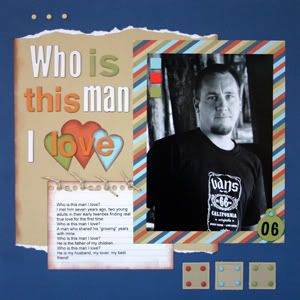 Here is my layout I made for the Lifetimemoments Baggie Challenge that I WON today :) So excited, I love this layout, it is simple but to the point and I love the journaling, I am not going to leave it up to long though because I want to submit it to the Scrapbook Trends Journaling Ideabook along with a few others I am posting. I am so excited about this book and that there is a call for it. For those of you who know me and my scrapbooking style and passion, JOURNALING is my most favorite part of scrapbooking, it means so much to me and is on 98% of my work. Journaling is the main "memory" part of a layout IMO, It is what tells the story of your pictures, what when you read it helps you remember that moment. Even if I do not make it into this ideabook I am WAY TO excited to see and buy it! Another awesome thing is, Kara Henry (My very own mentor), this is her baby, her dream ideabook that she is doing for ST. I can not wait to see it for her stuff and advice on journaling. AWESOMENESS I tell ya!
Here are a few other layouts that I have done recently for LRS and just because that I have not posted here yet.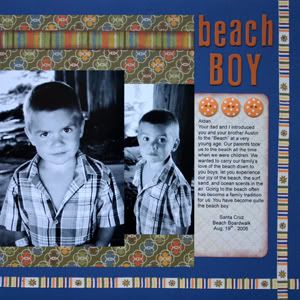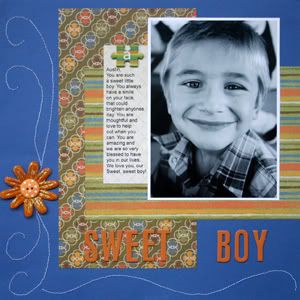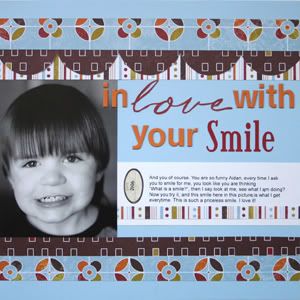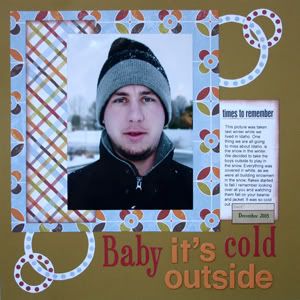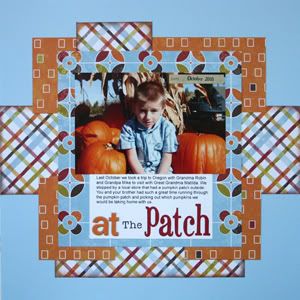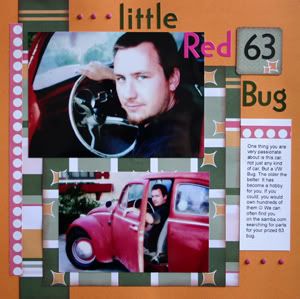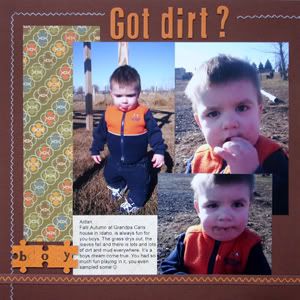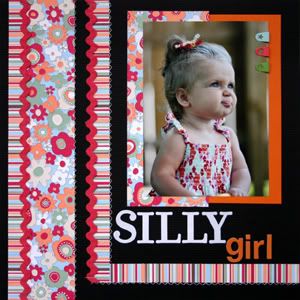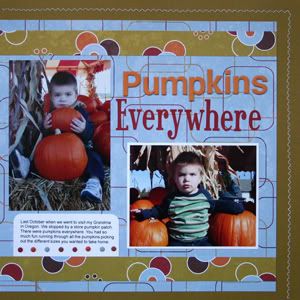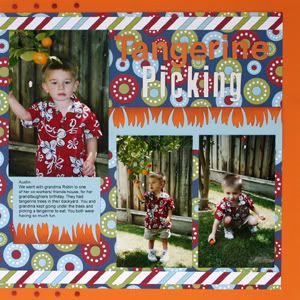 Lets see, I have been napping alot lately, not really use to it but I know it has to do with being pregnant lol. When I nap it is for a couple hours and I wake up feeling like I have lost my day or alot of time I could have been doing something lol.
Aidan loves giving kisses right now lol, He wants eyelash kissies, noses kissies, blow kissies (kisses where he kisses his hand and then blows them to you) etc, lol when I am driving him in the car he will sit back there yelling at me to give him kissies LOL, I have to tell him that i love him but mommy can't right then because she is driving.
Austin is doing so good in school, he is one SMART boy! We went on his school fieldtrip to the Grant pumpkin patch yesterday and the teachers and mothers had nothing but good things to say about him. I will post pictures from it tomorrow and tell you a couple stories or what happened lol.
Did you know that I am the BIGGEST John Mayer fan :) lol sheezzzzz thought you knew ;) We went on a 4 hour trip to BIL's last Sunday and the wonderful husband that I have let me listen to all the John Mayer CD's I have LOL, and he even sang along with some of the songs lol, I even caught SIL taking her IPOD headphones off to listen to a few. He is AWESOME ladies!
I cleaned my scraproom just a couple days ago and although it has been a few days since I have scrapped it is a mess again. Go figure.
I am going to start making things for ebay auctions again :) I really miss it and I could use the etra money for maternity clothes and what not.
I have started the LM charity auction stuff, this is always such a busy time of the year for me when it comes to this, I eat, sleep and dream of this auction, it is my night and day, it takes up so much time but the end result is amazing, the families we help, the children that will have a Christmas, that is so worth it PLUS it is fun :) After the auction I will start taking pms and emails for people we can sponsor, so if anyone reads my blog and wants to donate anything they have handmade, Cards, kits, layouts anything please email me at
lifetimemomentsauctions@yahoo.com
or go to this thread here to read about it more "
Lifetime Moments Christmas Charity Auction
".
I have soooooooo much homework to do this week and it is due on Tuesday so guess what my weekend will be spent doing LOL, no problem I love doing it. I have to read over 100 pages lol.
The mail man came so late tonight (around 5:30-6pm) I am so sad because I kept going outside to check and at around 5:15pm I gave up and went into take a nap, so he came and went and left a "sorry we missed you slip in my mailbox saying he has a package I need to sign for. waaaaa I missed a package. I have to call tomorrow because I am not sure if they are going to redeliver or if they want me to go to the PO to pick up. I am thinking it is from my secret Halloween sister from the pub :) I can't wait to see!
I DROVE all around town two days ago to many LSS just to find a scrapbook trends, I so wish they sold them at walmart here like they did in Idaho, I can not believe that NONE of the lss stores had it in but the last one. I am on the look out for the SEPT issue of Scrapbook Trends so if anyone has an extra copy or does not need theirs I am willing to pay :)
Okay well I better get going, I need to pick up a little before D gets home soon :)
Thanks for reading :) Leave a comment and say hi if you read my blog, I would love to know who all is reading it :)
Nikki