So I logged online this morning at around 6:30am and was greeted to an IM from my good friend Mely :) She linked me to this page at Babystyle with all these adorable Halloween Costumes for babies. I LOVE Baby's first Halloween, Austin was the pea in the pod, Aidan was a Pumpkin and Thanks to Mely Adriana will be this...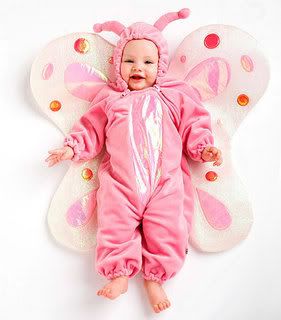 How cute is my little butterfly going to be? I love this! And I especially love that it has legs lol, no bunting, Adriana moves her little legs so much! (Dustin calls her Froggy because of it lol), it's just so perfect I could not be anymore happier and how girlie is it :) so stinkin cute!. I can't wait for this costume to get here. They also had these cute little costumes to...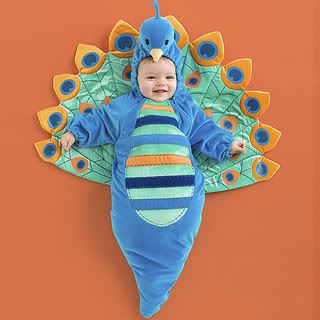 Beautiful Peacock, but it's bunting lol and a bit boyish to me.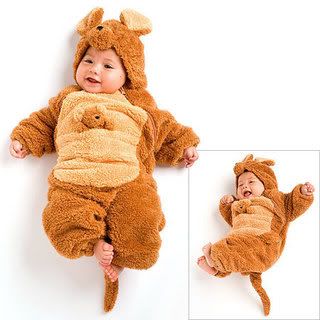 And a kangaroo and look what is in the pouch lol, a Baby Kanga, soooooooo cute!!!! I LOVE this time of year, it is my favorite, Fall, Halloween, my birthday LOL ;) Austin wants to be a transformer this year and Aidan wants to be a pirate. Next year we are all going to totally FINALLY do the scooby gang (family) theme, ALL of us ;)
Well I was up bright and early this morning because it was my son's first day of first grade, Okay is every year going to be a weepy mess for me on the first day of school? He was so nervous and excited he hardly could sleep last night and with him being up throughout the night and getting up with Adriana I am so tired today, I could totally use a nap. He was up to see his daddy leave for work, I fed him breakfast (poptarts, we decided on this because his stomach was a bit upset from nerves), I made him take a shower last night after I cut his hair so he would not have to bother with it this morning. I got ready, showered, makeup etc. We waited around, I made his lunch (Egg salad sandwich, capri sun, apple, scooby fruit snacks and a mini pringles cup.) When my mom got here we were off to his first day of first grade. We stood in his line and got to meet his teacher (very nice lady), then when the bell rang we went into his class. First impression, it's alot different then Kindergarten, so, so, ....well.... grown up :( no rainbow colored carpet for singalong time or story time, no group tables, it was so grown up, we put his backpack into his cubbie (had his name on it, it was so cute!) and walked to the desks/table he shares with one other student (Rosemary). There were 5 Kindergarten classes last year and this year there are 6 1st grade classes. He only had one child from his class last year (Ramon) in his new class. I think he is a little sad that Mara (his very close friend who is a girl, we CAN NOT call her his girlfriend or he gets so upset LOL) is not with him :( On his desk was his name tag taped to it and a pencil box with supplies in it (crayons, pencils and erasers), a gift from his new teacher. I remembered to take pictures of him before he left but silly me I forgot my camera on the counter in the kitchen on our way out :( so there I was the actual scrapbooker mom lol and the only mom there without her camera :( There was a dot to dot worksheet on his desk/table so he got right to it and started working on it, he loves dot to dots (this one had numbers you follow to make the pattern). I leaned in and told him it was time for mommy to go and that I loved him very much (at this time I start to feel the tears coming, not there just building) he said very slow (he was very nervous and I did not want to upset him so I whispered to him as I spoke.)that he loved me to, and then I told him I would be back when school was out to get him and that I hoped he had a wonderful and exciting day with his new teacher and all the new friends and classmates he would meet today. Then I went for the door. I of course turned around and stood half between the door and outside and watched him a little more, he was so into his Dot to Dot, I smiled , got teary eyed again and left. I can not believe he is in first grade, I am going to blink and it will be 5th grade, blink again and he will be finishing up Highschool, I don't want to stop time, but darn it where is that slow-mo button :)
Okay well I need to get my sketch up for my class and finish my second project for my second class, I will try and post those pictures tonight if I get time, probably after Big Brother 8 is over, I can't wait to see the Jen meltdown (I saw on the livefeeds) and how they play up the pen. nom/vote she will be getting tonight. TTYL
ETA- Here are my DT layouts for LRS...
I know I used these pictures on another layout but they worked out so perfect with This DT challenge we had at LRS (A sketch by Jennifer Swartz)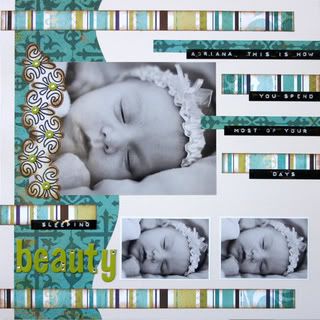 The background is stamped with one of the SassaFrass Lass stamps I designed for LRS.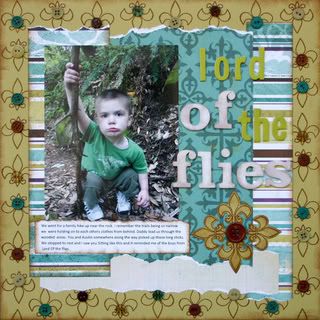 More stamps I designed on this layout, they all match the new Dasiy D fall in love line.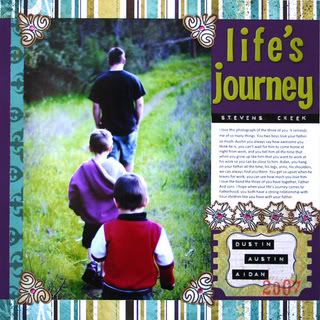 Nikki