We had our second 3D-4D Ultrasound yesterday. This time my MIL was able to make it there with us which was so great! The session was a little over an hour (I was so surprised and happy, it is such a wonderful place and he was so sweet to work with us and Miss. Adriana again lol.) She of course again was playing the "hide my face game", she will show us all her "Girlie Parts" but not her face, it so cute! We spent MOST of the hour trying all kinds of different ways to get her to move. He had me turn to my sides, cough alot, and a couple times I had to march around the office lol and down the hallway. About 10 minutes to 3:00pm (we had our appointment at 2:00pm) he was about to give up on her ever showing her face, she just loves to have her hands on it and lol even sometimes she will have her feet up near her face (a few times she was sucking on her fingers and toes (we got this all on DVD). I wanted to try something we do at home at night when I am laying in bed, I will have Dustin or one of the boys talk to my tummy. She often moves when we do this. It was amazing to actually get to see her re-act to it this time though. So there I was laying on the bed, and I had Aidan ask her to please move her hands from her face so we can see her, I kid you not (lol again it's all on DVD lol) the second he started talking to her she moved her hands. Aidan kept saying things to her and finally just started singing it to her LOL (He does this all the time, he will sing about what he is doing) By him doing this we were able to get a few shots of her with no hands in her face and a few with just her hands at her lips but we could see most of her face. I CAN NOT believe how much she looks like her brother Austin (lol I know that sounds nuts, BUT I swear just look at these pictures, I should post a profile picture of Austin when he was born and you will see what I mean lol).

Altogether this was another amazing visit. I am so glad we decided to get these 3D-4D Ultrasounds done this time around. This will be our last baby so it makes it extra special for us. We got a few of the 2D ultrasounds done with the boys and all the ones I got each visit to my doctor's office this time around with Adriana, but this was something so different from those, so special for us all, it made it 100 times better have the boys old enough to understand what was going on and what we were all experiencing. I will share the pictures at the end of this blog :)

WHEW, Can I breath now lol, I can not believe I actually have some free time this month LOL, so much has been going on, BUSY BUSY BUSY! This month (so far) has the most stuff written on the calendar for things to do, and this coming week will be the one week where there is a bunch of things going on each day. I have school exams next week, work, appointments, an in office Dr.s Ultrasound where they check baby measurements, Austin's school has stuff going on, Austin's birthday party at Chuck E cheese's, and the list goes on and on. LOL Are you tired from just reading all that? This weekend I was hoping to take it easy, but there are so many things around the house to do plus I have homework and should be studying for my exams next week. I also need to list some eBay auctions and get a little "ME TIME" scrapbooking in somewhere ;)

Okay well I better get the kitchen straighten up and then I am going to take a much needed nap :)

TTYL

Nikki

Here are two of the first 3D-4D ultrasound pictures I took at 22/23 weeks, as you can tell Adriana was still very skinny so she looks a little bony/skeleton like.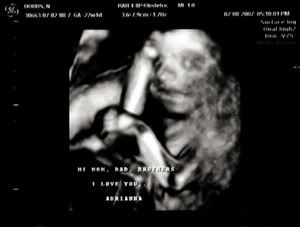 Here is a view of her "parts" lol think of it as a baby sitting on glass and you are looking up at it.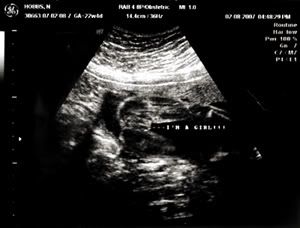 Here are the 3D-4D ultrasound pictures at 28 weeks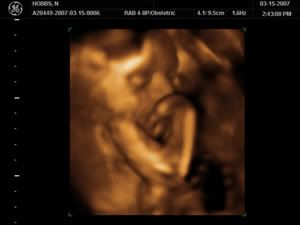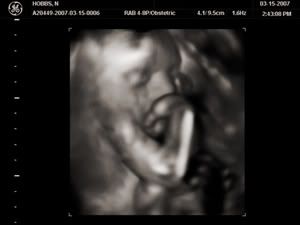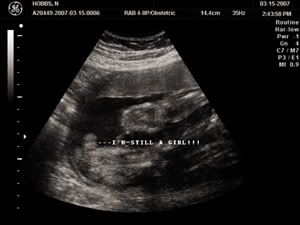 Here is a leg pointing up and a perfect little five toed foot :)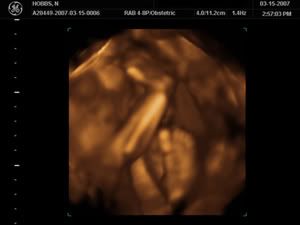 Side profile of Adriana (so she is laying on her back and her head is facing towards the right of the screen)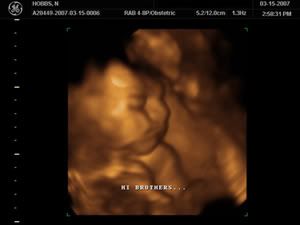 Here is the side of her (profile) look at those long fingers :) she loves to have her fingers and hands in her face.