WOW! I can not believe how fast time flies. I have been so busy with family and home projects, plus Design Team projects :) Speaking of DT projects, I thought I would share my two project/layouts I did for Creative Xpress last month (they are in this months CX Academy under Tutorials). This first one I had to solve these design challenges... It must have circular Composition, the title must take up no more then 25% of the page, must use warm color palette, must use three photos and it must be a fall theme.
This second layout was an inspirations layout, Christmas/Holiday themed, using the new Provo Craft Style paper assortments...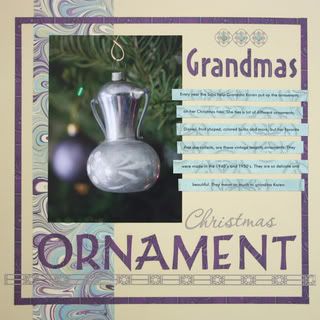 It was so much fun to do these assignments and I was a little nervous at first with it being the new girls on the DT's first assignment. You should go see the amazing work the DT did, I am so blessed to be on a team with such great, fun, and caring gals! Not to mention, talented! :) I just finished up my second assignments for CX last week, so I can't wait to shows those to you at the end of the month. I just got my goodies for my next assignments so I will be working on those and my Kit for LRS that should be here Monday (I hope) and I will be pretty busy with that too. Fun stuff!
Things here at home are really good, with the weather being so rainy, D has been home with us more during the day and we all have been enjoying that. Things are a little tight for us this month (it's like that every December) with him having more time off from his second job. We have all the major bills this month, Car insurance bill, we had an IRS bill and property taxes (yikes lol, comes with owning a new home). We also got talked into doing this gift exchange between family members which I guess would be fun, but we never go to it each year, D is always working (like he will be this year) and I never go. My MIL picks up the boys and takes them but that is it. Well the idea is you get someones name out of a list of family members and their card of two things they would want and a spending amount of $50 or more. That is fine but, I would much rather spend that amount of money getting Dustin a gift and the same goes for him with me. Instead this year we will be doing our (between him and me) gift exchange in January because we had to do this family exchange thing. I don't really get this whole gift exchange thing either, this year mostly everyone just asked for GC to their favorite stores, would it not be better just to not do this and go down to the store you want the GC from and get what you want? Instead of you getting the GC you asked for and the person you got getting the GC they asked for. I think this kinda thing should only be for the kids and only if you want to give them a gift. I think the most important part about the night is just spending the time with the family not the gifts. We already decided that we will not be doing this again next year. We just do not have the funds to be purchasing gifts like that for other people, then our kids and eachother for Christmas. Every year I end up making handmade gifts for my folks and MIL because things are so tight this time of year. Last year we ended up giving grandparents and family members framed pictures of the kids and I made canvas clocks for our parents, because this is what WE can do for other family members.
Anyways sorry to get of on a rant about that, it's just what has been on my mind and stressing me out a bit right now, that and I need to come up with something I can do for D this month. I know we said we were not going to do anything for eachother until January but I still want to do something nice for him, KWIM? I was thinking of doing something that involves the three kids, I am just not sure what. If you have any ideas please let me know :)
Lets see, things that have happened since last I posted. Well we fixed up the boys room and it looks great thanks to the help from my folks for the boys new beds and Austin's new desk (early Christmas gift for the boys) and we ALL got a chance to help out with the painting of their room. D and I did the top color and the boys helped their dad do the bottom color (both blues) and their is a white stripe that goes through the middle. My mother helped with the trim. She was so sweet and came over to help with all the trim. Their bedspreads and sheets match the walls only they have hints of green through out them, so their room colors are, two shades of blues, two shades of greens and white. Here is a picture so you can kinda see what I am talking about lol.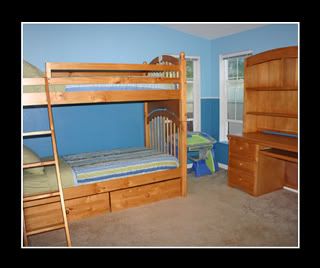 There is still a few things we need to finish in there but iut is coming along great! Lets see what else, Austin lost his first tooth and got $3 from the tooth fairy lol, which we made a deal with him if he did his chores then we would picth in $3 more and he could get a starwars action figure. He also learned to ride his bike without the training wheels and kicks BUTT at it! Aidan is doing great, he loves working in his kindergarten workbook we got for him and he is learning so much! Adriana is growing up so fast, I can not believe she is already 6 months old :( where did my baby go? She is doing so much now, she walks around in her walker, she is starting to crawel now, she has a favorite blanket. When she goes to sleep she likes to put this blanket over her head, no matter how many times we pull it away she will put it back, so we have to wait until she is asleep to pull it away. I did this when I was little to, it made me feel safe. Another thing I have noticed to is that she likes to twirl her fingers in my hair, and she is so sweet with it, I did the same thing and I still do it when I am nervous, bord or am watching tv lol.
I know I got behind on the pictures so I will post them all in this post, I am missing the 22 week pictures, they are already burned on a CD and It's not labeled so I did not want to go through them all, sorry lol, I am being lazy :) Well I better get off this thing and go spend sometime with Dustin, we have a couple movies to watch that we rented from netflix. Here are the pictures...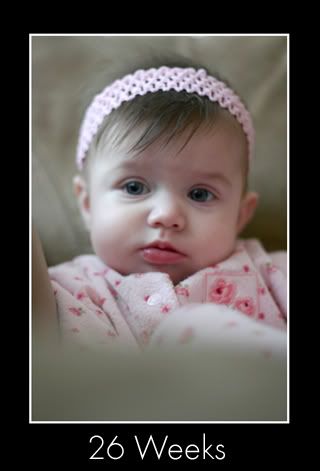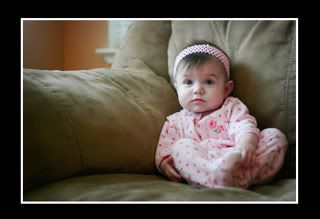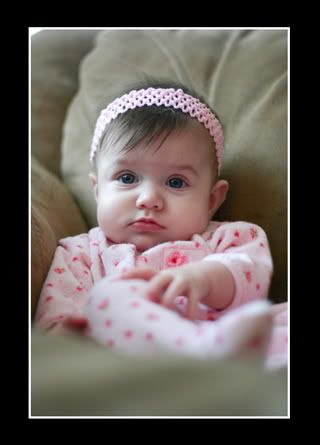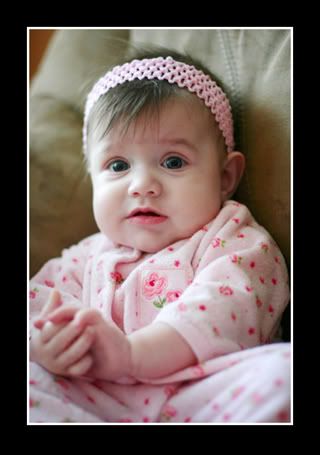 Here is one of my boy ;)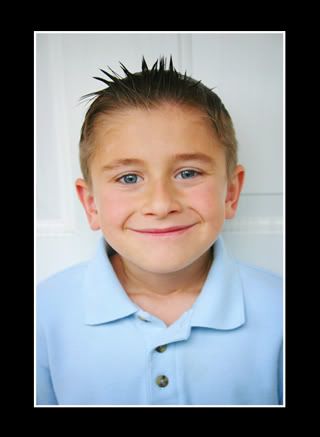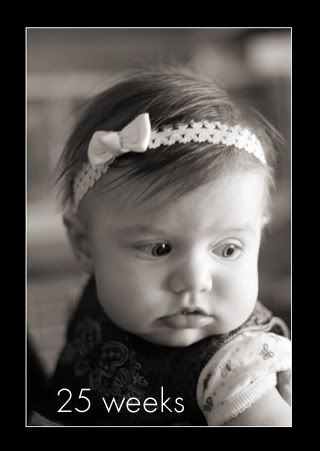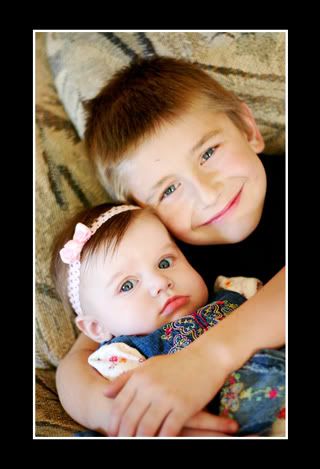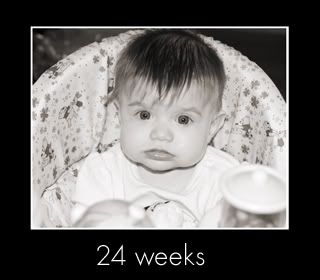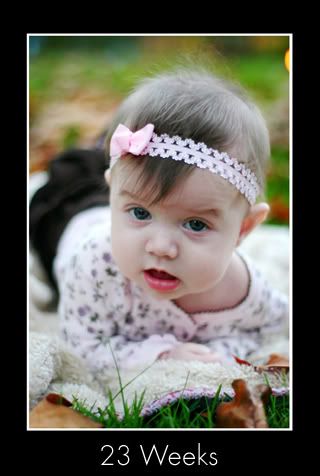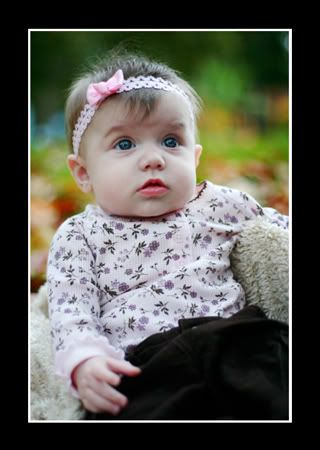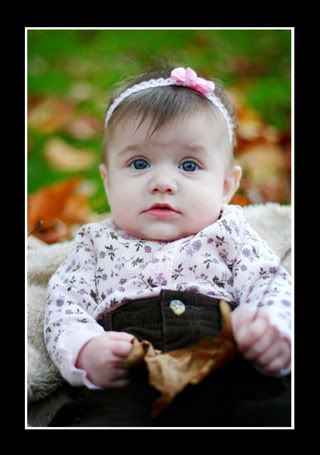 And one more of my silly, muddy boy!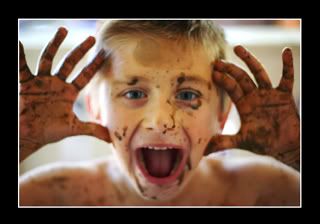 Okay Night all!
Nikki