Here are Adriana's 21 week pictures.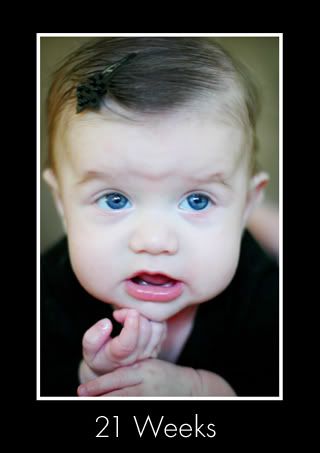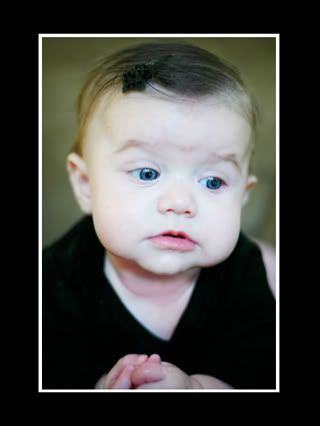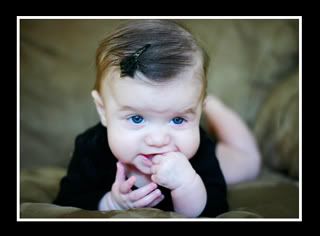 lol she still does not like tummy time for to long....see lol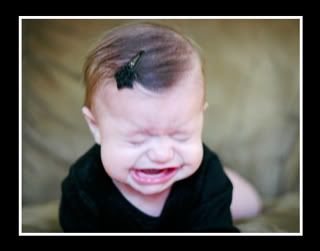 I took these on Friday, Nov 2 , when she turned 21 weeks. I dressed her back up in her black onsie and her black hairclip. I need to get her more hair clips and head bands for babies (I have only found them for girl's not babies :( ) She is doing really good. She is 12 pounds now and can still fit in her size 0-3 month clothes but we are now buying here 3-6 months and she can fit into them they are just a little big on her. I think this will be her size for a while. The bummer thing about this is she has hardly any winter clothes. all her winter clothes are 6-9 month clothes (which she should be in now if she was born weighing what we though she would be lol (7-8 lbs like most newborns these days). So we need to get her some winter clothes in 3-6 month sizes. She is now tucking her legs under and trying to push off into a crawl when on her tummy and she has gotten so much more faster with her back crawling lol. She has gotten into a stage now where she can not sleep or nap unless I am laying next to her, she likes to watch me lay there, her eyes moving all around my face or just looking into my eyes. So a few times during the day I have to lay down with her until she falls asleep. I love it! She is always so happy, hardly ever crys and she is babbling so much now. We make her laugh when we blow raspberry kisses on her tummy. One of her favorite things to do right now is touch our hair lol. when I lean over her and my hair falls in her face or I am blowing raspberries on her tummy she will touch it so gentle and coo at it lol. She also loves to touch our faces, she touches so soft and gentle, never hitting, poking or pulling, this is so different from the boys lol, they both use to scratch, poke and pull our faces lol. She is such a good baby!
Thanks for letting me share :)
Nikki