WHEW! It has been pretty busy here so far this summer. We have been doing

alot

of things like swimming,

outings

, park visits, time at the

in laws

, Dustin and MIL built a clubhouse/fort in the backyard for the boys (I will take some pictures and upload them soon for all to see.) All that is left to do to it is painting, adding the roof to the second floor and pouring in the sand for the two sandboxes. It is really neat and the boys just love it. Aidan has his

hot wheels

out there and Austin has been adding his

Star wars

action figures to it. my folks have been wonderful, they come over at least three times a week to help out with the boys while I take care of the house and Adriana.
Last Weds (June 27

th

) I went in for Surgery. This may be

TMI

for you to read so I am warning you now, if you don't wanna know then skip this part

lol

) When I gave birth to Adriana I got a small

hemorrhoid

from pushing so fast ,the Doctor and nurses said it was fine and gave me some tucks to take care of it, Well Tuesday June 26

th

I was having some (ahem

lol

) bathroom issues, they got so bad that I made the

Hemorrhoid

worse, so worse that I could not sleep at all that night, let alone sit or lay, i was in so much pain. So I called my Doctor who was out of town (great!) then I tried to get in to see one of her partners, all booked up, finally the Urgent care center could see me. I got there and had to wait close to an hour in pain before I was seen (I even went out to the hot car to try and lay on my side to ease some of the pain but it did not work and Dustin said i was walking so funny

lol

). I went into my room and was told to put the tiny paper blanket thing on (you know the one that if you move the wrong way will rip up the front and show all your lovely-

ness

). The Doctor came in and told me to turn to my left side and lay down. Then I heard her same WOW! That is really huge we are going to have to do surgery. Great I think, just as long as the pain goes away after. Anything was better than this pain. She tells me how this is going to work, she is going to give me a shot in the area to numb it so she can cut out the clots. I tense up a bit, first of all I am NOT a shot or needle person ( who is right?) I am really bad, sometimes there is shaking, fast talking involved and I have even cried before, I HATE needles and shots. She leaves me for a couple minutes to get a nurse to assist and to get the supplies. In this short amount of time I am praying she takes awhile to get back so I can convince myself this is going to be for the greater good of being able to sit on my arse in peace without screaming or crying and of course the pain will soon be gone. I lay there and soon hear the doctors shoes coming down the hallway. This is it, showtime. The nurse and Doctor come in. The Doctor tells the nurse she will have the oh so lovely job of holding my left cheek up while she does the surgery (OH JOY). I turn to my side, that lovely nurse grabs

ahold

of my left cheek and holds on, and I hear the Doctor go through the, this will feel cold, it's just a cleaning wipe to clean the area, now here comes the shots (um what? SHOTS? she said SHOT! earlier, not shots.) I brace myself and feel the tears building up. Now before I go on, I would just like to say that With the pain that I am about to feel (the pain I now know and will never get out of my mind) I would so have rather of gone through labor and birth 5 more times then experience this pain again, Labor and birth is a cakewalk

compared

to this pain! The first needle tip goes in, right into the

flaming

, painful

Hemorrhoid

, I screamed, jumped, wanted to curse so bad but all that came out was OUCH OUCH OUCH oh God! OUCH and there was even an

Ouchie

thrown in there a few times. My right hand hit/punched the wall in front of me, I then braced the wall with my hand as if it would help

with the

pain if I pushed on it as hard as I could. She poked me in a few different spots in the

Hemorrhoid

with the numbing needle, and I did the same thing each time as I did above. Finally it was numb enough for her to start cutting opened each pouch (as she called it) in the

hemorrhoid

to cut out the clots. The whole time she worked on it she would make comments about the size of it, she said it was the size of my thumb (shocked!) and that if the nurses whole saw it at the hospital when I had Adriana would have examined it further they would have seen how big it really was and could have taken care of it there while I was still numb from the

EPI

. I was so mad to hear this! I could have avoided the worst pain in my life had they looked better! While she

was cutting

clot after clot out I started to feel presser and a little pain, so what did she do??? She went and got a new bottle of the numbing

meds

and filled up another needle chalk full of the painful stuff. I had to go through that pain another time before this would be done! All in all I had 12 shots in the area,

each one

I felt and I had 17 cuts and clots taken out of that damn

Hemorrhoid

. I wanted to die!!! I was in pure heaven when she was done thanks to that evil numbing needle, I felt zero pain and was doing great. Jumped right

off the

bed, put my clothes on and headed out to the waiting room where Dustin and Adriana were. Before I left the Doctor told me

that my

pain

meds

would be ready for pick up at

costco

in an hour. I thought great, we can go eat some lunch and run a few errands before picking up the boys from my parents house. We did the lunch, I called in to

costco

to see if my

meds

were ready and found out that they were closed for another hour due to lunch, great we could go get Adriana's birth Cert. (one of our errands) and pick up the boys and swing by

costco

to

get the

meds

afterwords. We get across town to the BC place pull up to a parking spot and

Istart

to feel a little bit of pain, the numbing

meds

from the evil needle are starting to wear off, great, it can't be that bad right? Dustin goes in, I stay outside with the baby in the explorer. Within 5 minutes I am in lots of pain, I try to shift my weight off the area, not helping, I then try and open my door to stand, the problem is we had to squeeze into the parking spot because the people next to us both parked wrong leaving us with little room. I was able to

squeeze

my legs out but would have

to really

try to get the rest of my body through the small opening, I said forget it and just climbed over the back seat and

layed

down in the back area (were the groceries go

lol

) I

layed

there a few minutes but the pain got worst. I then curse myself for ever leaving the house and not thinking about how the evil numbing

meds

would wear off before I got to

costco

for the pain

meds

, I curse the Doctor for not giving me any kind

meds

before

i left

the hospital, The pain gets to bad wear I now think I just need to go inside, get Dustin and have him drive me home so I can sit in a hot bath then have him run and get the

meds

. I climb back into the middle seat and this time open the door on the

other side

were there is more room for me to get out, I stand there for a second, it feels like my whole behind area is going to rip off my body, like it is cut up (which it was, 17 times) and is ripping off) NEVER felt pain this bad before, and that is the best I could

describe

it. I got Adriana out and started around the corner of the building, I saw Dustin

YAY

I thought, but then he says, that he just came out to tell me it would be 10 more minutes. I started to cry, I feel

craziness

kicking in now from all the pain, I tell him no, that we can't wait any longer that he has to take me home now, he says he will take the baby and go in to see if they can move it along, I start crying louder but agree, he says if not it will only be 10 minutes. I slowly get back to the car and get in, I am shaking hard and in so much pain, plus crying rather loud now, I sit and wait, in pain, it gets worse, I start to hit the side of the door to get the pain going somewhere else, I slowly feel my sanity leaving me, I wonder if there is any other pain in the world that can be worse? A stab wound? A gun shot? I then think nope this has to be worse

lol

, I have seen the ER shows on TLC and Discovery, you go into shock and the pain goes away, I silently wish I would go into shock, then at least I will feel less pain, I start crying loud again and praying loud, people are passing by, I wonder for a

second if

they think "WOW look at that nutcase, she most be on something (I wish!), or that I was crazy, from that time the numbing

meds

went off until I got my pain

meds

two hours later (I will explain this too!) I did go crazy! I look back now and WOW! Just WOW! Finally, 20+ minutes later I see my husband turn the corner of the building and I cry more, Thank you God! So he gets in and we head off for another 20+ minute drive back home. It was a living HELL! I cried and hit the door the whole way home. Once we pulled up to the house, the pain was beyond worse, I tried so hard to get out of the car, which took about 7-8 minutes to step out of, I could hardly walk or stand on my legs the pain was so bad, then I had to walk UP the four steps of the back

porch

to get into the house, steps were not fun! I ran a

sitz

bath and got in, the pain was still VERY bad but got a tiny bit better in the water. My husband then got Adriana ready again after we feed her and went to

costco

which is only 10 minutes away. 20 minutes

went

by and I am still in a ton of pain, this is now like 2 1/2 hours after I left the hospital, I call him on his cell phone, He is waiting in line. I hang up, he should be done soon. I sit there in silence and in pain. 10 minutes goes by and I decided that I need help, someone to talk to to help keep my mind off the pain, I call my parents house. My Dad answers, I can tell he is a bit upset that I could even think about being super woman and try to RUN errands when I just had surgery and should have stayed home resting. I am upset with myself to. I tell him I just need someone to talk to me for a while that it might help take my mind off the pain, my dad is wonderful! This man spoke to me for 17 minutes and it did help some. I got off the phone and call Dustin back wondering if he is on the way, when he answers I don't even say hi, I say "please tell me you are on the road and on your way home right now" I

hear the

baby crying in the back ground, he then tells me that the order is not ready (shocked!) and it will be another 20-30 minutes, (I am praying to die now, please put me out of my misery!), that he needs to drive the baby home so I can BF her. I hang up and cry again, I think to myself,

you have

to be joking right? Is my luck really this horrible today? I find

myself

laughing now, what luck? He gets home, and leaves again, he gets back there and another 20 minutes go by, I call again (I bet he wished he did not have a cellphone this day

lol

) He says it will be about 15 more minutes and he will be right home. I run another HOT bath and just sit there. Waiting. 30 minutes later he is home and I am out of the bath. I take my first pain

meds

and wait for them to kick in. They gave me a

Codine

/

Norco

med. It somewhat took the pain away. I could still feel the pain and pressure but I could sleep now, and BOY did these

meds

help me sleep! Because I was taking this kinda drug for the pain, I had to limit how many times I could breastfeed, so I was BF and giving Adriana formula, I did not want the sleeping effects to happen to her (which the doctor said it would) so the first few days I had to take the

meds

every 4 hours, I formula fed and just pumped my breast and tossed the milk. After about 4 days on the

meds

every 4 hours I started taking them every 6-8 hours so then I could breastfeed her and formula feed. I was also ordered on

bed rest

for the whole week, which I hated! I was so

Bord

, caught up on a bunch of my shows on TLC, read some books and spent so much time with the baby, that part was wonderful. Dustin stayed home a few days and my parents helped out. I to this day, 11 days later still feel pain but it is getting better now. I NEVER EVER EVER would wish this on anyone! I hope I

never have

to go through this again, I am hoping it was my first and last time

lol

. So that is how the last 11 days were spent.
In better news my baby girl turned One month old yesterday. I cannot believe it! She is already 4 weeks old, where does

the time

go. I LOVE this baby so much! She is such a good girl, she hardly ever cries, she loves to be held, We fall asleep together all the time

lol

, she loves to rest her head on my shoulder and her body on my tummy. She

smiles

all the time

when you

talk to her. She is very alert. When she sleeps during naps I find myself missing her. The boys love her so much and are so good with her, Austin loves to hold her and Aidan loves giving her kisses. She has been such a wonderful addition to our family, she completes us :) Oh and she is so Daddy's little girl :)
I will post her one month (4 week)pictures tomorrow but for now here is one two week picture and a couple 3 week pictures, plus the boys and a couple layouts I did.
Okay time to go BF, TTYS :)
Nikki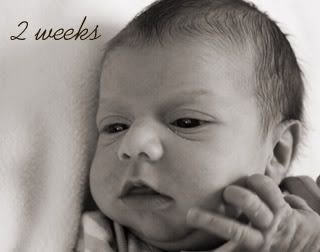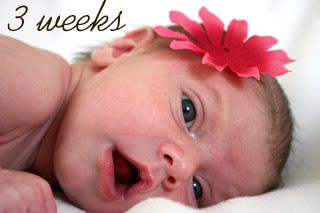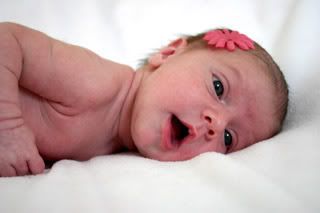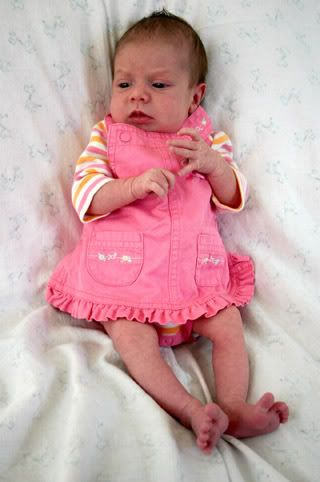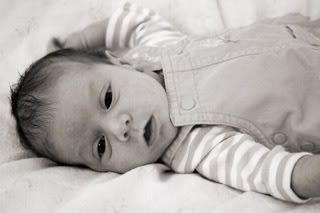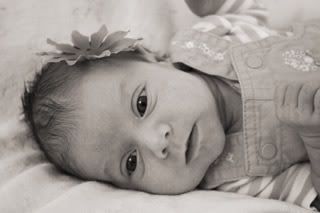 Austin being goofy :)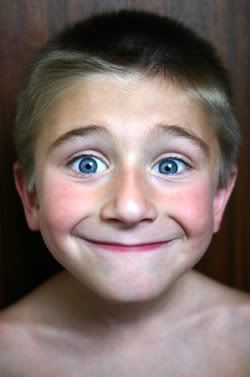 Aidan looking so sweet :)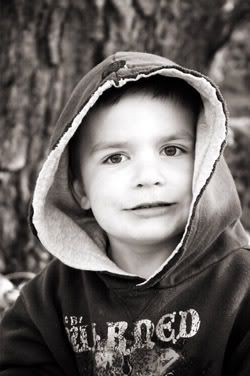 And a couple layouts I recently made...