Okay I have been following up on the movie for months now on the
Stephenie Meyer
website, I was happy to see Kristen Stewart playing Bella, she is perfect, I totally loved her in "In the land of Women", her acting is brilliant!
I was also happy with the choice of Edward who will be played by Robert Pattinson (Loved him in Vanity Fair and of course as his role in Harry Potter as Cedric Diggory. I think he could totally pull off Edward (even though the Edward in my head was a bit different looking.)
I found these pictures of the "Cullens" today...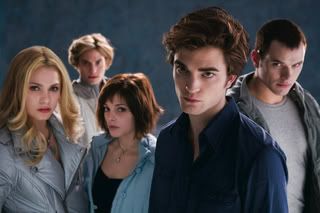 Okay out of all of them I know of ONE person. That would be Nikki Reed who they have playing Rosalie. Look at her hair in these pictures, it is sooo dyed strangely, maybe it's just a wig for the photo? this is what the real Nikki Reed looks like...
Her real hair color is actually darker then this picture even. I have nothing against Nikki Reed,I just do not think she is a good choice for Rose! Maybe she got the job because of who her father is? I have seen a few of her movies, Thirteen comes to mind...
(that is her on the right) in which she co wrote and starred because it's based on her real life at thirteen (think drugs, sex and teenage freedom, the movie is rated R and is alot like that movie "KIDS" that came out when I was a teen, I remember parents were against their kids watching it back then, I did see it, all I can say is WHOA!). Thirteen was actually a good movie, but hard at times to watch!
Any way in my mind my Rosalie was a real blond (lol) so beautiful it would be hard to look away. I would have picked a real blond actress not Nikki. I am happy with the other actors they got, just not sold on Nikki! There are a few actresses that come to mind, one in which is Alyson Michalka...
(Here she is with her sister AJ, AJ is actually playing/filming "The lovely bones" right now, another one of my favorite books making it on film)
My pick for Alice (sweet Alice) would have been Racheal Leigh Cook (This girl could have done all four movies, she looks so young!)I do like the way the Alice for the movie looks, I just pictured alice as Racheal when I read the books.
And they got "EVA" from Grey's Anatomy to play "Esme".I can't wait to see Jacob.