WOW! What a day! First I would like to start out this blog post with this fabulous news :)
I made the Creative Xpress Design Team for the second year YAY :) I am so excited and so glad I still get to be apart of this wonderful team and fabulous community, the gals there are truly amazing women! Here is the list of the 15 girls who made the team...
Returning Members:
Elizabeth Carney
Nikki Hobbs
Melanie Douthit
Jen Nichols
Kara Henry
Becki Adams
New Members:
Stephanie Ackerman
Heather Carpenter
Andrea Amu
Joy Hager
Stacy Armstrong
Laura Mendoza
Karen Pinsonat
Megan Peacock
Meridith Watson
I am so excited to get to work with of course the girls who stayed on from last year and now the new girls, like I said so many wonderful gals! SO EXCITED! can you tell ;) lol
Now on to the news that has me a little bummed. Now mind you I "KNEW" there was no way I would be making the Chatterbox team, not with that list of talent I was among with the 35 finalists (35 from 427 who tried out), I was trying really hard (right Anna lol ;) ) to not think about it but I have to admit, I am a little bummed and did think about it a bit to much LOL (refreshing the chatterblog so many times for updates). Those of you who know me know this was my "dream team" (lol I have a bit of a cbx addiction, if you do a search on my blog you will find a photo of I think a 7 or 8 inch stack of just paper (every collection ever made) I have of CBX (which is now way bigger), I have drawers upon drawers of every embellishment from them too, heck I even have the first thing CBX came out with what like 10 years ago, those little "the scrapbookers best friend" spiral books that have quotes, poems and titles inside, I even have all the first rooms in those cardboard covered collections they first came out with. When we moved to Idaho a few years ago someone asked my dh Dustin and I why we wanted to move from California to Idaho (we are now back in CA) Dustin answered for me with one word....Chatterbox LOL, I am so serious, that was my answer and my husband knows me so well. I believe the second reason was "Sonics" lol yep LOVE me some Sonics cream pie shakes and was thrilled they were in Idaho lol.
Like I said a couple post down I am so very honored to have made it to the finalists and that I was given the opportunity to use some of the new CBX products, I made two layouts that I love with this product and had such a great time with the assignments that I was given, I will share them with you in this post, I asked Courtney earlier if I could post them now on my blog and she said of course I can :) The new CBX stuff is awesome! I opened my box and just fell in love with everything. I am totally going to have to get some more of the "Artsylicious" in more colors and I love the colors in the new "Together" line. I may have not made the team but I am so greatful for being apart of the last round. Congrats to the 6 lovely ladies who did make it (wow 6 out of 35, that is something), and for the 29 who did not, I hope you will try again with me next time :) I am not giving up, that's for sure, I will be there trying out again next time :)
Okay now for my Chatterbox assignments...
This first layout I was to create a layout using predominantly the "Peacock Artsylicious" product included in my goodie box. (I think I may have goofed on this one (blush) see I used a little of the yellow and light blue PP from CBX that was in the box and I read later, on the CBX blog that I should have used 90% of the Peacock colors, yikes). Everything on this layout is Chatterbox, except the glitter I used on the flower centers (doodlebug lily white sugar glitter), and I used my cricut (I have been using it on everything lol) "Home accents" and "Storybook"cartridges for the die cut flourishes, my cuttlebug for the flower centers, I also used my sewing machine. Anyways here is a "few" lol pictures of the first layout. (I am posting a few to show you the detail)...
"Miss Isabella"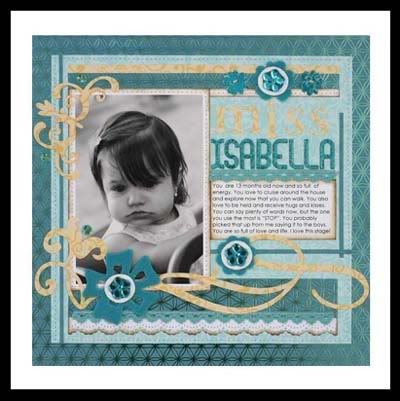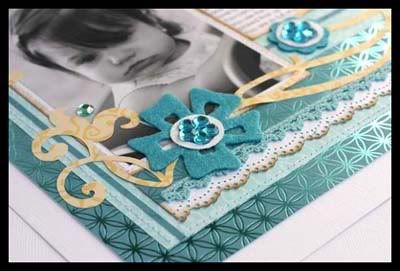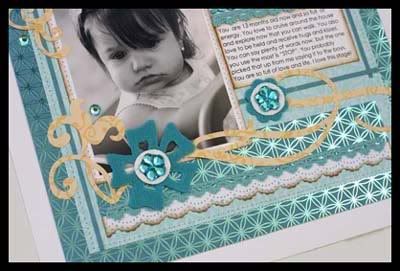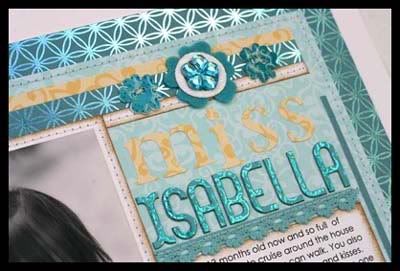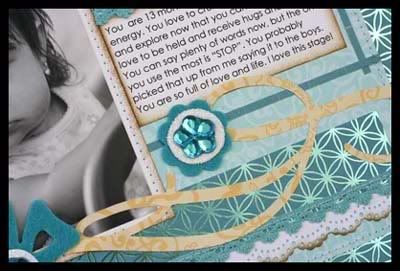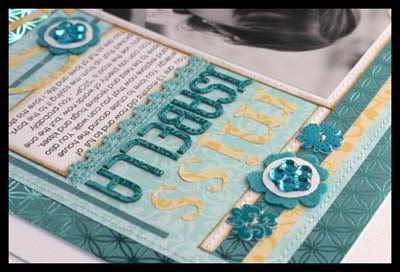 This next layout was a "freebie" we got to make what ever we wanted as long as it uses CBX of course :) Again all CBX except the Bazzill CS and I used my Cricut for the diecut stars, Ranger ink, and my sewing machine.
"Good Boy"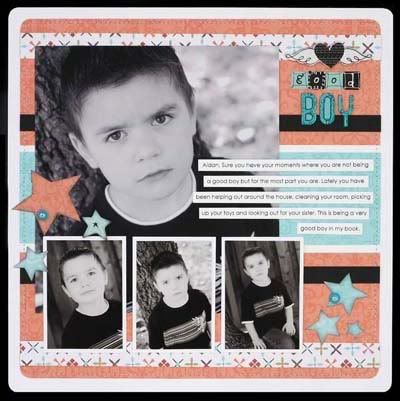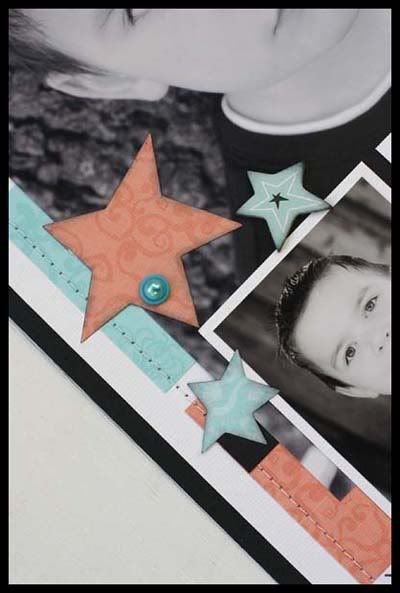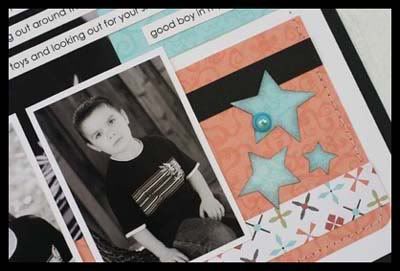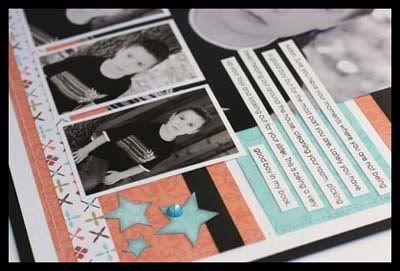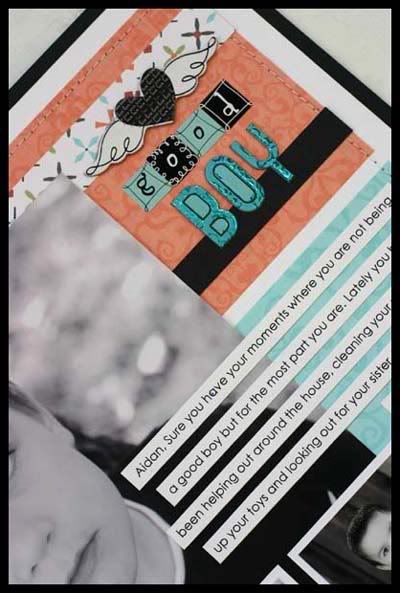 I really love these layouts, and am so glad I got to make them. Okay well I better get off the computer for a while, I have been on a few times today "refreshing" lol and now I need to go get some things done, like dinner dishes and finishing the laundry lol.
Goodnight all and thanks for letting me share all of this with you :)
Nikki