I am sorry to those who like to read my blog, sorry I have not updated in a while, it's been a busy couple of weeks! I am back though :) Nothing to new going on, I started back at the gym again, I am hoping it sticks longer this time LOL. We had a great Halloween weekend and it was so wonderful having my MIL here, I was so sad and depressed when she left :( I really miss her and my family in CA. We took the boys to the park, pumpkin patch, shopping, we baked goodies, it was just a great visit. I am sad that I did not get in to many pictures. I was really sick on Sunday, the kinda sick where you can't hold anything down and you have to stay in bed all day. I was so thankful my MIL was here, I have no idea how I would have done it without her!

I have been a busy girl this week, lots of DT stuff to do and I also have the Lifetime moments charity auction to work on this week. We just got it up today, and it is doing great so far! So many talented people donated their awesome work for the cause (to help kids in need at Christmas).

I just got my cards ideabook/magazine back today, I got my two cards, two copies of the book and an awesome goodie box! I got a SEI kit pack and OMGOSH I got a few sheets of one of the new CBX lines, of course not enough to fill the need but I got a few lol, I totally need more! and can not wait to get my hands on more of this line and the other new line. I have a BAD BAD BAD Chatterbox addiction, I mean it's nuts! I have been...well....... collecting the paper for a few years now, my collection is now over 5 inches tall! I am serious! This is my all time favorite pattern paper line! Just to show you what a nut I am I took a couple pictures of it lol (blush) SEE....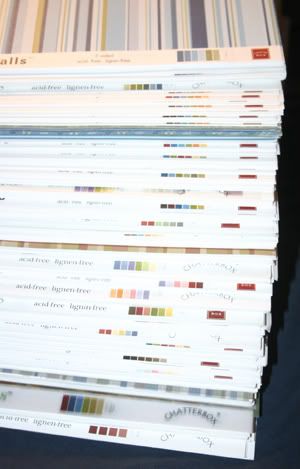 I told you and you know what, I NEED MORE! I am serious! Everytime I have a little extra change I get a couple sheets here and there. It is a sickness, a good, wonderful, amazingly awesome sickness lol and OMGOSH The smell! My chatterbox paper smells sooooooooo good! (okay now I just sound like a crazy person lol) well what can I say, I am an ADDICT!

Nikki