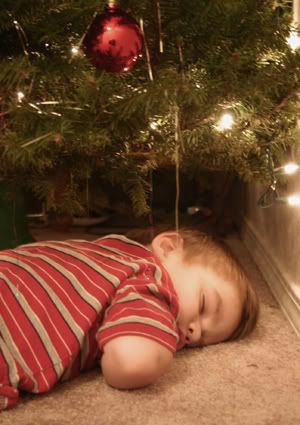 This was my two year old today. I saw him playing under the tree, I thought nothing of it and continued to read. About 20 minutes later I heard my 4 year old yelling in his room, so I got up to go tell him to play a little lower with his voice. When I can back into the living room I found my son sleeping under the tree like the picture above. Boy does it bring back childhood memories!

as long back as I can remember my sister and I LOVED to camp out under the tree, the lights, the smell. I am glad to see my boys picked up on it too :)

Well I pulled my stuff out to scrapbook today, had it all set up out here in the living room on the coffee table (instead of back in my room where I have all my scrap stuff set up) so I could be close to the boys and D. D was home this afternoon (working late) so he watched the boys while I started a layout. After he left to work the boys were impossible! Fighting, throwing toys, hitting, jumping, bouncing you name it, they did it! I got my work out in today for sure! the minute my butt hit the floor to work, that same minute I was up to get them away from eachother. right now it is 20 minutes until their bedtime and they are wired more then ever. I even had to put my scrap stuff away for now (dt stuff) and turn out all the lights (not the christmas tree) and put on boomerang (flintstones on right now) to try and calm them, where are they? One is screaming and yelling because he can't pass a game on his PS2 and the others is in and out of his room with his HUGE fire engine. Not to much longer before D is back home YYYYYAYYYYY :) Then maybe I can take a nice hot bubble bath with a book and then come back out and work on this layout more. (crossing fingers) It's a layout of my youngest in his Peter Pan jammies :) goes very well with the papers from the kit this month from LRS.

Oooooo GOSH I am wanting a soda sooooo bad, I had to share yhe very last one with Aidan tonight lol, and now I want another one, I am thinking about putting on all my warm clothes just to go get one from the apartment vending machine lol. I just may need a Pepsi to stay up and work tonight lol.

Okay well I better get back to the boys. TTYAS

Nikki

PS, yesterdays Anniversary was nice, I cooked an awesome meal and we all spent time together. and D and I cuddled, I always LOVED cuddling with him, we did it more so the first couple years we were married lol, so it was so nice to do it last night, we even both fell asleep cuddling on the couch LOL, we both woke up with stiff necks at 4am.

ahhhh okay really going, just had austin out here screaming about aidan spitting is milk in his eye, and they are fighting again :( Calgon take me awwwaaaayyyyyyyy........