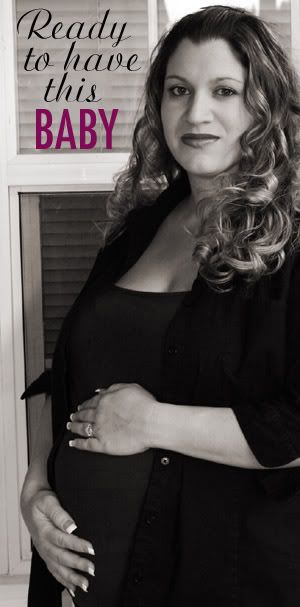 I am soooooooo ready :) well ready in the sense that I would love to hold our baby and of course have my body back lol. I am getting way to excited and time is coming to an end for this wonderful journey. I however AM NOT ready in the sense that I still have not packed our hospital bags and today well I took most of it off to be a bit lazy, the boys managed to get the house that I spent this weekend cleaning a bit...well.....messy lol. Thoughts now go through my head as I type this blog post about waking up in the middle of the night (which is so bound to happen since I wake up ever half hour these nights) in labor (a THIS IS IT!!! If you will) and the house be the way it is (not that it is so bad lol) and no bags packed. We will have company all week after she is born and if I am woken up in the middle of the night in labor with nothing done then the company that will be here, will wonder what the heck I was doing all weekend LOL. I am totally serious!
Have you ever started something and had good intentions on finishing it but got into other things and just sort of left it there half done? Well, if you were to walk through our front door and walk in to our sitting room, there would be no where to sit. WHY? Well yesterday I deep cleaned my office/scraproom and moved out all the sorted boys baby/toddler clothes I had set aside to take pictures of for the LM clothes trading group and for eBay. Well I sort of just piled them all on to the couches in the sitting room, with perfect intentions on cleaning them up yesterday. Then of course I got to tired, and well today was said lazy day so, it did not happen. Clothes are still all over the sitting room for all to see. I have a good mind to just gather them all up and shove them in my office closet until after the baby is born and I have a little more enegy and time to deal with it (I will probably end up doing this LOL, eyeroll). I really wanted to get this done, but I just have no time and if I were to go into labor right now, it would be horrible to have all that out there for the company to see, let alone them not have a place to sit (besides the living room) lol.
For some strange reason, you can call it nesting if you like :) I HAVE to have this house clean before she gets here! When she comes and we go home from the hospital I want to walk into a clean house, where I don't have to worry or do anything, I can just relax and adjust to our new life.
With all this being said, even though my body and my mind say go to bed, I can't I must clean up this mess, you never know when labor will start ;)
Tomorrows post (If I am around) is going to be about what an amazing son I have in school! He brought home his yearly journal today and it just made me cry, so I wanted to share some of the pages :) He is just so darn smart!
TTYS
Nikki