I admit it, I have a bit of a problem here lol, My Daughter is going to be set with onsies, I just love them lol, so cute, so easy and perfect for summer weather. We have the purple and pink collections from Carters (I still need to get the unisex one, with the oranges and greens and whites). She also has a few patterned ones and plain colored ones. FUN FUN FUN :)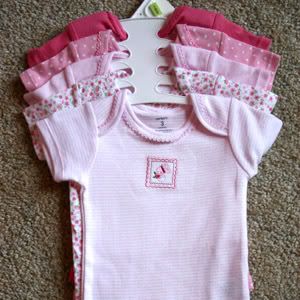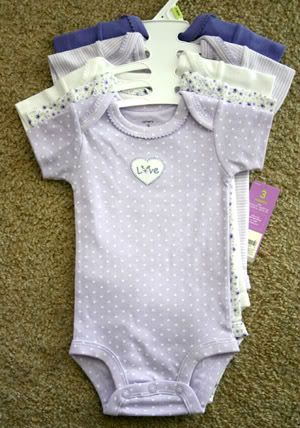 Cute right? lol I also got the boys these really cute shorts and sprocket (LOVE this brand for the boys) shirts from Mervyns, they love them :) Perfect for summer, I plan to go back soon and get a few more for them. I will upload pictures of them in them tomorrow :)
Well I survived the carpet cleaning this weekend, for a while there I thought I would never get the 8 carpeted areas clean, or I would either go into labor trying or die LOL, it was hard work! I am so looking forward to tomorrow and kinda relaxing. I get to scrapbook YAY lol, I have a few more things to finish up for LRS and my DT stuff, fun stuff.
Okay well I better get into bed, It's late and I have to get up early to run a few errands. I will post more tomorrow :)
I leave you with more Baby girl goodness :)
Saw this at BRU when we picked up the car seat and just had to have it for her, cute little summer outfit. Dustin picked out a bathing suit but I am not sure about it LOL :)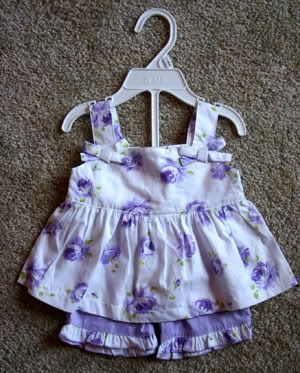 And these little goodies were given to her by her aunt Marilynn, Her first purse LOL, how cute is that lol and I love the little headbands...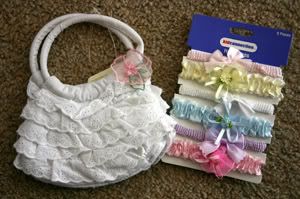 Okay nightie night :)
Nikki