I just finished watching the movie Ladder 49 with Dustin. WOW! This movie was so good! I cried like a baby! If you have not seen this movie, you need to rush out and rent it! It is on my "to buy" list! VERY GOOD!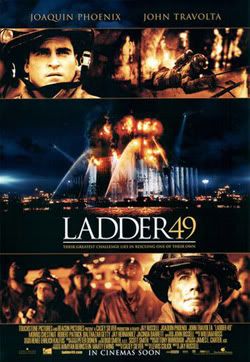 *Life*
I have had this very strong pain in my back (mid right side, close to my spine) for two days. It was so bad yesterday, I thought it could be a number of things (you know when something is wrong and your mind is racing with all the bad thoughts, this was me yesterday), D got so tired of hearing me whine about it that he went and got me some Bengay lol. It took the pain away and felt so good. I woke up this morning with less pain, but it was still hurting. I applied Bengay a few more times today and as I sit here tonight in this chair before I go to bed, It still feels a little sore but alot better! It now feels like a muscle that got streached to much. I am hoping that is all it is and that is fully gone soon.
*scrapbooking*
I have been working hard on page kits for ebay. With me being the only one working now, we really need this help. I enjoy it but honestly I wish I could be working on layouts lol. I did complete two layouts this weekend. I received my LRS Kit today for April and I have to say this kit is GORGEOUS! I will post pictures of the kit contents tomorrow. I am so excited to get started with this!You know my secret toot I posted about a few days ago, well that package should be here soon too, I can't wait to get started with that, I am soooooooo excited!
*Misc*
Well I had so many other things to talk about but I am so tired now lol, it is 2am and I should probably get to bed now. Oooooo I need to remember to post about Chloe and the kitten she had tonight, Sad story but we did get a precious little kitten out of it that we named "Oreo" , I'll post about it when I get up and post a picture of our newest family member :)
Night,
Nikki