Here are some pictures from our trip to the Childrens Discovery Museum.
Here are the boys is the kids pizza area, it was so cool!
Here was this cool wall needle thing lol, we all put our faces through it :)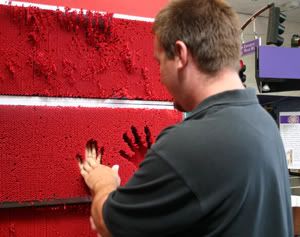 lol this was austin being goofy with it LOL, look how the last one on the left he is smiling in it LOL

So I studied all day yesterday for my driving written test and them went down to take it at the DMV. It is funny how when you do that and then you are driving to the dmv and notice all these things people are doing wrong LOL. I got there took my eye test (20/20) took a funky picture (I was still wearing my work out clothes lol and my hair was pinned back in a ponytale) and then took the test. I made it up to the counter 8 minutes later, the man checked my answers, nothing wrong on the first page, then I saw him check the first wrong on the back side, this is when I turned my head lol he finished grading it and then looks up at me. Says, "well you missed some here at the end of the test" I was thinking great must be the 3 I had left blank and then went back to lol. He then smiles and said you only missed 4, that means you passed, WOOHOO. I missed 4 out of 36. I got my permit YAY! So now I am driving us everywhere LOL. it has been about 7 Years since last I really drove (I would run errands in Idaho but not to far) so I am excited, it's been long enough lol. I have to say I am scared to death of these streets still though (reason never getting a DL here), I have nightmares lol, so many freeways, so many cars, so many crazy drivers, speeders, etc, but I am finally doing this, YAY ME!
I am a bit blue today, I just feel so much tension in this house lately. MIL's MIL is now gone to her other DD's house, and I think it is because of us, the boys, and being to much. We have 5 more weeks until our house is done and we can move, I pray things start going good and there will be less tension in this house, it is seriously bumming me out :(
Okay I have to go start dinner, I am making everyone chicken tacos tonight (I will be having veggie ones :)
Later,