wow it's been a long weekend-week so far. I finished and mailed off a couple cutom orders I made for people. I have also been working on stuff with my WSD Aug kit, lots of fun! I received an email from Maegan from Little Red scrapbook the night before last and I made the TEAM! YAY! I am so very excited! I have always wanted to be apart of a kit club design team.
So for Aidan's birthday, D came home and I suggested taking the boys to the park and doing a BBQ there Well he had a better idea, he said lets all get ready and take this party camping lol. So we packed up stuff for camping and headed up to the mountains (about an hour away) and went to this spot we picked out when we went up that way a few months back for the snow. It's great it has a stream that runs through it and a great little area for the boys to play in. When we got there we unloaded the car, then D and and the boys put up the tent (it's a tent FIL gave us that they use to use on camping trips when D and his brothers were younger. After that D started the BBQ. We had hot dogs, hamburgers and I brough some bush baked beans but for got the pan for it so D cut open a coke can and used it as a pan to cook the beans LOL, very clever! While he cooked, the boys played a bit and then we decided to do the cake and presents before dinner because we were losing light. They had so much fun, D bought those trick candles that re-light after you blow them out, that was so funny to watch! We all hung out for a while exploring a bit and then D started a bon fire. So we roasted marshmellows and made Smoores. A couple hours later we all went to the tent, I journaled a bit in my journal and then tried to read but just decided to go to bed with them. Thing is when all the noises I could not sleep LOL, I kept waking up, I would check the cell phone to see the time and swear I woke up every hour on the hour lol, I would hear a car pass by and wonder who the heck was driving around up here at 2-3-4 am lol then at one time at about 2am thi s creature jumped on the top of the tent, he was very tiny but I could not see what he was, his 4 feet were about the size of my thumb nail, I woke D up and he pushed the creature down. Finally at about 5am I went to sleep lol. We got up, explored some more and then got everything packed and ready to go home. It was a great idea, we had alot of fun!
Now I have been working on some new ebay stuff and some layouts for the DT's. Super busy this week but having fun! Okay well I better get back! Oh before I forget I am so excited to live in ID! Chatterbox is having a huge free 4 all sale at their place you pay $10 and get $300 in products, I am already getting 4 bags full for the girls who asked and I wish i can do more then 4 but with two kids and my hands full I can't :( I feel so bad for those who email me to see if I can get them one :( believe me I truly wish I could, but 4 is all I can do.
Okay need to get back, laundry and kit is calling my name! TTYL
hope you all are having a great day!
Nikki
Here is a couple of the camping pictures....
Here is the birthday boy :)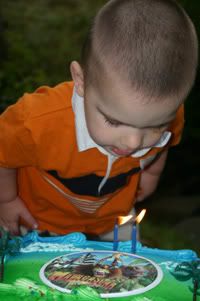 here are the boys in the tent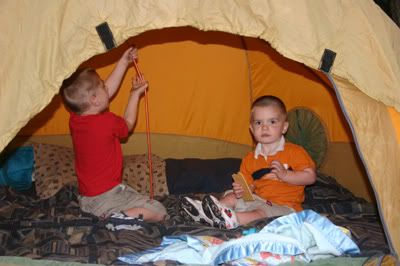 here I am lol this was me in the morning I was reading my book (no make up lol YIKES) and look Kristie it's the hat you made me ;) it came in handy that night, kept me warm :)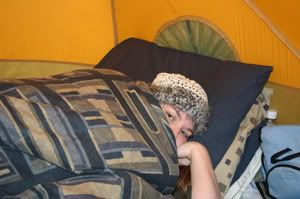 and here is one of D :)