Okay Drama queen is back lol. Boy was it rough this morning, however it did start to get better, Aidan took a nap and that gave me time to work more on my mini album for the DT, it was to late though because the dt gallery was added shortly after and I could not upload because we went and did things for my birthday. So again, I suck because of that, but you know what, it is my birthday and I was enjoying time with my family! This whole weekend away was wonderful to, I was just telling my mother tonight that we all have had more fn this past weekend then we have together all year! It was just so awesome! LOL none of us wanted to leave.
So around 4pm today I hear a knock at the door, then Austin comes back here and tells me someone is knocking, so I stop working and head for the door, I peek out the peep hole and see a pretty blond lady standing there with something in her hands, when I open the door she asks if I am Nikki, I say yes and she hands me this...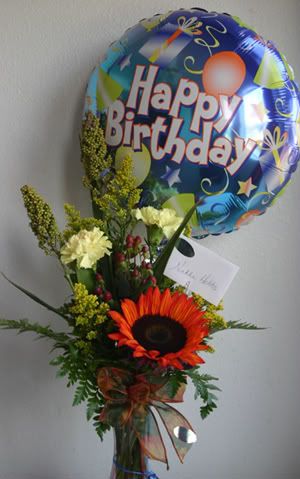 The card said they were from my MIL. How sweet is she! I called her and thanked her :) I decided not to let the day get to me and just relax so I ran a hot bubble bath and soaked for an hour, then D got home and walked into the bathroom with these...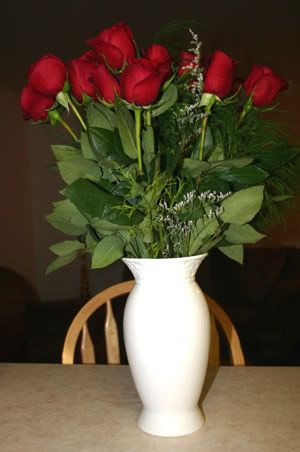 24 red long roses. He said that he went to the flower place that Costco gets them from just to make sure he got the red ones. How sweet huh and I think it makes up for the 30 joke (eye roll) he said he owes me 27 spanks too (shock) LOL. We got ready to go out and he took me and the boys to Chilis. mmmmmm it was so good! the four of us split a chocolate shake with chocolate sprinkles (Austin drank most of it lol) I got the steak fajitas, LOVE those, Dustin got the ribs and fries, austin got pizza and Aidan got a corn dog and fries. The boys did pretty good minus Aidan pouring sugar on half his food, and Austin is strange when it comes to pizza, he likes to add ketchup to it (yuck! lol). After that we went to look at Bunk bed prices, we want to get the boys beds soon so we shopped around looking at the different prices. Then we went to Mervyens, EVERYTHING was on sale, so I decided for the first time in 5 years to spend the birthday money my folks give me for my birthday every year ($100) on clothes for myself, BOY was that hard! I wanted to spend it on the boys and clothes for them to lol. I sure did make out to! The awesome L.E.I sophia hiphugger jeans I love so much were on sale and marked down from $44 to $28, so I got two pairs in black lol. I also got 6 shirts, 3 T shirts all only $4 (love these for the gym or hanging out around the house (I got pink, white and light grey), then I got an awesome limeish green colored shirt with sparkles down the V necked area, a cotton black "E" (ellemenno) long sleeved lounge shirt, and a Cami tank that feels so nice, for when D and I go out downtown or on a date somewhere (I wear these with a buttoned overshirt unbuttoned though) oooooo and I also got a new Black hoodie YAY. All of this for a little over $100. I still have some money left over to (about $130 for bday money) so I may have to go back and get a couple more things from that awesome sale!
D also got himself a couple pairs of jeans and 3 shirts for work, the total for all our purchase was $178.00 We saved $186.93 from the sale, CAN YOU BELIEVE THAT? Awesome! We NEVER get o do this because we never have the money to spend on ourselves to get clothes, but we saved for D to get some new work clothes and with my B-day money we made out! I am just so thrilled to have my jeans :)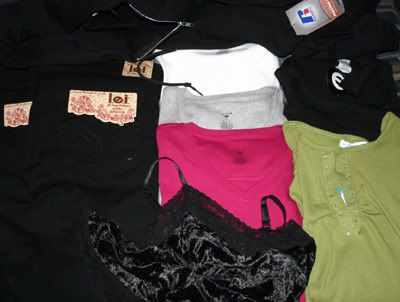 Okay well I better get to bed it is late and everyone is finally asleep YAY lol. oh before I go I just wanted to say Thanks to all who posted on the MB's wishing me a happy birthday! That was so very sweet of you all and it sure did make my day today! I am so blessed to have so many wonderful people in my life and as my friends! Thank you all! I love ya guys! :)
Nikki