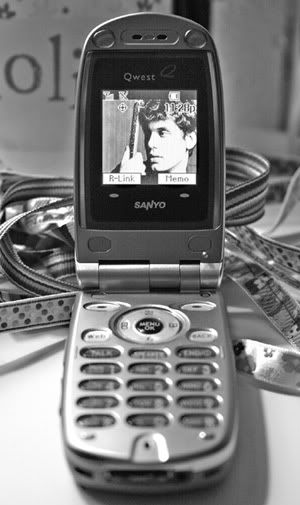 Yep The man on my phone is Mr. John Mayer. LOL I had to have one of my favorite artists ever as my screen saver. I also have ahem "Your body is a wonderland" as a ring tone LOL, I had it on there for a while tonight but changed it to "If you leave me now" by Chicago (One of mine and D's favorites). I am keeping the John Mayer screen saver on there though. I can't wait to see him in concert! He also has an awesome blog on
My Space
if you wanna check it out, I love reading it! I also added one of his LIVE showings on on my blog so I can hear and see him sing, he makes these awesome faces LOL and he loves to eat his mic ;) (it's a joke between Mayer fans), but it's also one of my favorite songs by him (well I pretty much love all of them lol) "Daughters". Hope you like it.
I have been pretty busy the past few days with EBAY stuff. It's taken up alot of my time. I am hoping to scrap this weekend though, I want to try and get a few things done for the ST call due next week. Oh I forgot to post, I had a CARD picked up for CARDS magazine. I love this card, I used the new Chatterbox "Poolhouse" line. I was so excited to be picked up by this wonderful ideabook again. I can't wait to see it.
Okay I better get to bed, It is 2:30am and my eyes are burning they are so tired. Night all
Nikki
PS, If there is typos it is because it is late and I am soooooo tired lol.