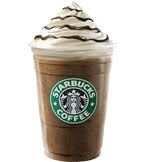 YUMMY! I could so go for one of these right now lol, instead I just made some Breakfast Blend Starbucks coffee. I am really tired this morning, I went to bed kinda early last night to, maybe I got to much sleep. I am also eating some of my leftover veggie (no mushrooms YUCK lol) pizza from Papa Johns, sooooooo GOOD!
~Scrapbooking~
I finished my DT stuff and sent them in yesterday, I can't wait to see the DT gallery at LRS this month. I made mother's day cards for my mom, MIL, and Smil. I am now finishing up the mini album I am making my mom. Last Nov. We all took a trip to see my grandma in OR, so I am using all those pictures we took during that trip to Bend (OR). I was going to use the rest of the shabby chic paper, but with as many pages as I am making there was not enough of the papers I wanted to use, so I am now using the 3 Bugs in a rug (Family) line and embellishments. It matches well with the pictures since I changed them all to B&W. Now to get this album done before 4pm today when D gets home, so I can get them to the PO before it closes. I want them (I made MIL one too) to get there on Saturday. So yep I have a lot of work to do today with this lol. I plan to get a couple layouts done tonight to for Moments Defined too. I also have an eBay kit to finish.
~Misc~ I am still sad about the house stuff, I am crossing my fingers though, that the last addendum (request for repair form) was sent back yesterday.So we are crossing our fingers and praying that the owners agree to it and we can move in at the end of the month (that is if she finds a place now that she changed her mind about moving out of state). If this does not happen, our lives will be very different for the next few months, we will be living out of boxes at MIL's. We are preparing now for that, just in case. We started packing "MUST Have" boxes, of stuff we will need if we have to stay there for a while. The rest will go into storage.
Okay well I better get back to my coffee, pizza and this album lol. Have a wonderful day :)
Nikki