Here is a reminder (Miranda) for those of you who thought about trying out for the

MUSE contest

, YOU still have time so please please please send those emails in :) Here you go....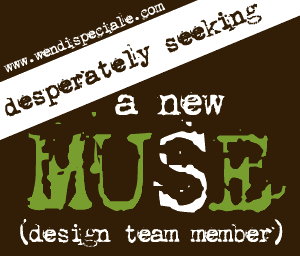 Are you the next Muse for Wendi Speciale Designs?


We want to see your work!

Contest runs from August 16th, 2005 through September 29th, 2005. The new muse (winner!) will be announced on October 1st. (wendi's birthday...and she wants to announce the new muse as her gift!)

Contest will be judged by current Muses for Wendi Speciale Designs, including owners Sunday Vidal and Wendi Speciale. Winner will be judged on creativity, originality and passion for paper arts. You are not required to use wendi speciale designs stamps on your projects, but it would be nice to see how you use our products!

To enter, e-mail five scanned images of paper arts projects you have created (scrapbooking layouts, collage, paper arts, altered items...) to
Wendi Speciale and Sunday Vidal
. (wendi@wendispeciale.com). In addition, in your email we want to know a little bit about you...what do you want from this experience?

What you will get: A free kit from wendi speciale designs every other month, design team "scoop" and recognition, ability to request stamps for assigned publication projects, and being part of a wonderful, creative and extremely positive team.

Below is a general outline of requirements for Muses: (term is for six months)
• Assignments must be completed on schedule.
• Muses must be visible and active within the wendi speciale designs message boards. (Starting and replying to threads so that you are able to help us out with making sure the boards are moving.)
• Each muse is required to attend at least one celebrity chat a month.
• Muses will be asked to vote for contests offered by wendi speciale designs
• Stay in contact and share team questions/issues with our Muse Mother (Team Leader) Debbie VanMarter
• Promotion of Wendi Speciale Designs (tell a friend if you will!

We look forward to seeing your work!


So come on ladies lol lets get those emails in =)
Nikki