AH! I am in such a downer mood today! If everything could go wrong it sure did today! I apologize now for yet another venting post! So lets see, well for starters my son was in my bathroom this afternoon, while I was on the phone, he must have picked up my 5lb blue candle I keep on the toilet shelf because next thing I know I am listening to some serious screaming, so I get off the phone and run to the bathroom (6 feet away) to see the candle on the floor and a HUGE black and blue mark on his cheek (below his eye). My poor baby :( I kept saying awww you have a bad shinner and he kept saying ouchie shinner ouchie shinner. The scrapbooker in my reached for the camera as soon as he calmed down enough for a couple shots. He is fine now, just a little brusing.
So I received a phone call from my dad today saying that our bank is looking for us and called their house (shocked smiley here), he gave me a number to call. So when I called it, it was for the overdraft department (see a couple weeks ago we stopped our direct deposit because if we did overdraft then it ate up dustin's paycheck in huge fees which means we would get behind on bills, we thought this would help us manage our money better until we were caught up, in the mean time I have been working my behind off on ebay kits and special projects to earn extra money to pay of the hefty bank fee, I deposited money two days ago so it will be in there tomorrow) anyways I talked to two people on the phone and they told me I need to go down to our local bank tomorrow and speak to the manager about helpping us with all our $33 overdraft fees that have added up (not going to post the amount here but it is alot) so the only money we have had is Dustin's paycheck from both jobs and the money I have been earning that is in paypal that I have been transfering into the bank to take care of the overdraft fees.The man on the phone said that he agrees that for purchases that were only $4-6 costing $33 in overdraft is not quite fair but it is a fee they want for taking care of the item they had to pay for. I am so bad at money! I stink at it! I wish we were rich and could hire someone to take care of the "money" for us lol. But we are not rich, so I will do, I just need to learn to manage it better. I know I will get it someday. what also stinks is some of the recent overdrafts are my fault, I get online kits etc that take from our account each month, well even if the money is not in there they will take so if the kit is $33 it will end up costing me $66. I pmed one of the kit owners to ask if I can start paying with my paypal, that way it is my money that I make and I am not taking away from family money. I need to email the other kit company to see if she will take paypal, if not I will have to quit it :(
I am just so happy that we are caught up every where else, it's just the bank we owe. I plan to have the bank paid off by next friday, I am going to first see if the manager of the bank will help with some of the fees, and if so then I need to get the new amount we owe.
okay enough money talk. My local scrapstore is getting in all the new chatterbox stuff on Monday (lol I know what you are thinking, yes I know I have no money for this! it's just nice to know it will be there when I do, and I do have a small GC to the store, so I just may use that), I can't wait to see most of it in person.
Oh another stupid stupid stupid thing I did was a woman ordered a kit from me a month ago, Well we agreed that I would send it priority back then. This slipped my mind when I mailed it :( I think I upset her by mailing first class which I did not mean to do :( I paid for the postage through paypal (since that is where my money is at) I did not mean to upset her, I feel so bad! God why do I have to be such a scatter brain all the time? I think I need to just go to bed early and wake up to a new day.
On a lighter note, my husband got off of work (his second job) early today and spent the rest of the day with us, it has been nice, I can't tell you how much I miss him since he works so much! It got to be 108* outside today and guess what he brought me home to eat???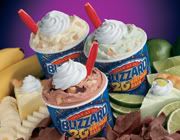 a banana cream pie blizzard from DQ, I am not a huge fan of banana stuff but this was so yummy! Oh another good thing is I received my goodie box from Memory Makers today (for being pubbed in the July 2005 issue) there were lots of {cool} stuff in the box and oooooo I just LOVED all the goodies from

GO WEST STUDIOS

, awesome awesome stuff! I can not wait to use them! Okay I have to go get this kit done finally, TTYS
Hope ya'll had a great day :)
Nikki
PS SORRY FOR ANY TYPOS LOL I WAS TYPING FAST AND DID NOT SPELL CHECK