PHEW!!!!!! I can finally sit down and breath. It has been one SUPER long week! Last week started off with a Test in my marriage, Both Dustin and I were tested and things were very scary! But we have been working through things and I pray to god everyday that everything will be okay!
I spent most of last week heavy duty cleaning! I carpet cleaned every room in this apartment, scrubbed every rooms walls down, laundry, kitchen, living room, dining room, boys room, both bathrooms, our room, hallway, laundry room and all the closets got cleaned out! I did all this heavey duty cleaning for my MIL's visit this past weekend. Boy was it fun! She flew in on Friday at 4pm, got to our place around 5pm. We all sat around talking for an hour and then went out to eat at the golden corral (This place was soooooooooooo GOOD!)
We woke up around 9am Saturday and went on a 2 1/2 hour drive up to McCall Idaho to Ponderosa State park to BBQ on the tip of Lake Payette. I took over 100 pictures. The weather was sunny, then rain, then sunny again. We BBQed and had fun at the Lake for about 3 hours. The boys played with their bubble wands, hot wheels and in the water. Aidan LOVED rubbing his toes in the sand, just like he did at the beach in Santa Cruz, CA. Dustin went swimming in the freezing cold Lake water LOL. He said it was so cold he thought his heart would stop. Karen had a great time too.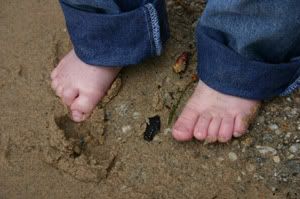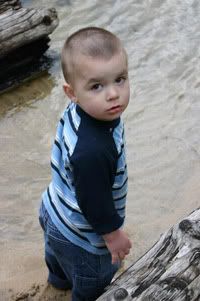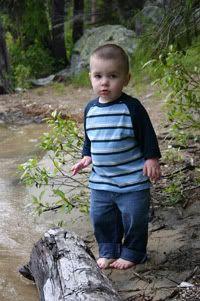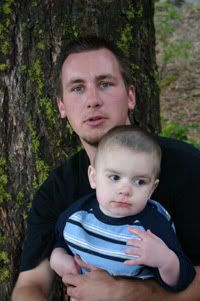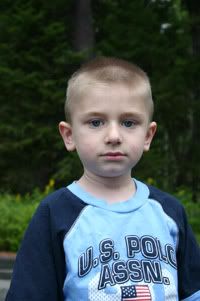 Oh are way back home we stopped outside McCall to take pictures of the double rainbow we saw! Can you believe we saw the WHOLE rainbow from side to side! I even took a picture of it!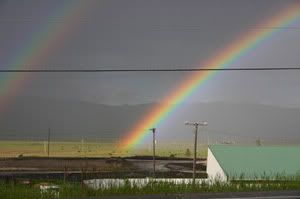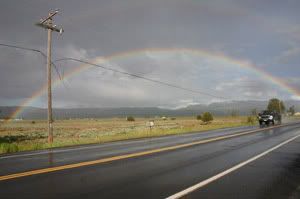 I will post about our Zoo trip with pictures later, I am going to go lay down and take a nap while Aidan is. TTYAL
Nikki