I woke up early today. This is the start of our new week. Dustin is no longer on the early 2-3am shift at costco. They moved him back up to the afternoon evening shift on carts and as a cashier which is good because it means full time hours and when he cashiers (like today) he gets a $1 more in pay and hour. With Dustin working these hours again he does not really need the window comapny job, but he says he will continue to do it so we can have extra money, hey maybe now we can start adding to our savings. :)
Dustin did not start work until 1:00pm today so when got to spend a little time with him this morning :) He also went to finally pick up our SUV from the trany shop. When all was said and done it ended up costing $2117.84 to fix

that is just crazy! But we are so happy the car is working now! I am so grateful my parents could help us with it.
I have been cleaning all day! I cleaned the kitchen

the living room and dining room, then I carpet cleaned

for hours, the living room, dining room and hallway. and now I am folding the laundry

4 loads lol. I also did 20 minutes of my walk away the pounds 1 mile dvd
it takes 20 minutes to get through the dvd. I am thinking I am going to do it again after dinner tonight.
Well I finished season 5 of SITC and am almost done with the (3rd DVD) of sex and the city season 6 part 1 so now all I have left is the 3 dvds of part two. The first two discs are the show and the 3rd disc is a special dvd, which will be nice. So I just finished watching EP " A Woman's Right to Shoes" and LMBO, I have to say that If I were rich and had the money for the " Manolo Blahnik" shoes in this EP I would sooooooooooo get them! They were Gorgeous!!!! They were $480 bucks. well I tried to find the ones in the EP that I just loved to show you, and came across these.... i JUST LOVE THESE!

Manolo Blahnik Style: C SPOLETO

and these are cute too!

Manolo Blahnik Style: ROON

here are the ones from the show they look soooo much better and shiner on Carries feet lol, I LOVE THEM! They are called Manolo Blahnik Style- Silver D'orsay's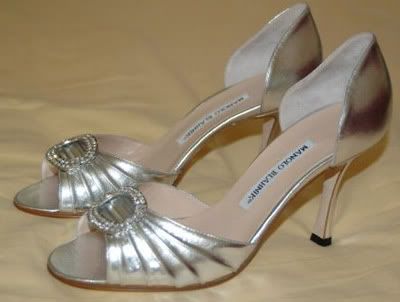 Okay I can not tell you how much we LOVE that hollywood video deal we got. It is $9.99 a month with unlimited movies that have the blue "MVP" stickers on them. we have been going to Hollywood video everyday sometimes twice LOL. I rented the 3rd dvev SITC season 6 , little black book and Dustin got Wicker Park. So now that I am almost done folding clothes I think I am going to pop in little black book and try to finally finish this page kit :) LOL I have my Otis Redding CD on and Aidan is in here dancing. He is so cute. Also we decided to move my scraproom/office into the dining room area so that will be our little project on weds (Dustin's day off). I also decided that I am going to TRY to make my own curtains for the dining/living room areas. Okay I better get going, TTYL